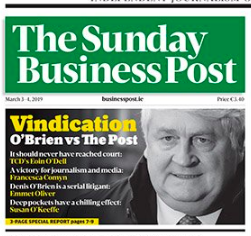 In today's Sunday Business Post (as trailed on the front cover, here; element left), I have an OpEd (sub req'd) in which I argue that O'Brien's case should never have reached the High Court, and that the Department of Justice needs to publish its review of the Defamation Act as soon as possible (you can download it below). It's part of a bumper collection of articles on the case (spread here and here):
Emmet Oliver: A man named Sue. The eagerness with which Denis O'Brien has taken legal actions in recent years shows the urgent need for a comprehensive overhaul of Ireland's libel laws.
Francesca Comyn: A refusal to wave the white flag. At its core, The Sunday Business Post's victory over tycoon Denis O'Brien in the High Court was a broader win for journalism and the Irish media.
Susan O'Keeffe: Defamation ruling a victory for freedom of the press. Even when journalists are sure of their facts, they take a risk once they tangle with power, a risk worth taking because it's important for journalism and democracy.
Eoin O'Dell: O'Brien's case should never have reached the High Court. The Department of Justice needs to publish its review of the Defamation Act as soon as possible (you can download it below).…