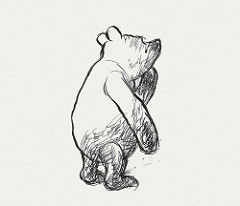 As every fan of a certain bear knows:
Isn't it funny
How a bear likes honey?
Buzz! Buzz! Buzz!
I wonder why he does?
AA Milne, Winnie The Pooh (1926)
As if to prove this, the BBC is reporting that the taste of honey was just too tempting for a bear in Macedonia, which repeatedly raided a beekeeper's hives, and has now been found guilty of theft and criminal damage (see also Daily Mail | Hearld Sun | News.com.au | NPR | NYT | Reuters | RTÉ | The Telegraph | UPI). My favourite headline from the coverage is the Syndey Morning Hearld's Guilty as a bear can bee.
Athough most of the commentary focuses upon the obvious comic elements of the tale, there is actually a rather serious point. …