In a welcome example of enlightened self interest, US law firm Morrison & Foerster realised that they had "a vast resource of privacy materials" arising out of their world-wide practice in the area, and they have taken the unusual but highly commenable step of making the fruits of their own research available as a dedicated Privacy Library on their website (see the press release here; hat tip Concurring Opinions). Although not an entirely altrusitic endeavour, it is nonetheless a superb resource, with links not only to US Federal and State legislation, but also to many other countries and multilateral organisations. It seems to be a great place to find otherwise hard to locate primary privacy materials.
Here's a screen-shot of the Ireland page: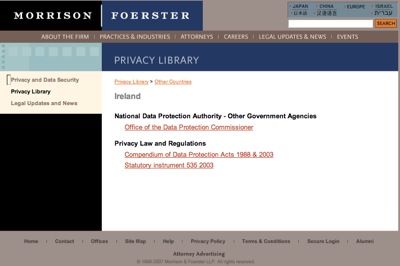 This is basically the information about data protection available on the Data Protection Commissioner's website; it would be churlish to point out that it doesn't yet have our data retention legislation (Part 7 of the Criminal Justice (Terrorist Offences) Act, 2005), or a link to the Privacy Bill, 2006 (pdf). And it won't replace EPIC or Privacy International. For all that, though, it is an extremely useful store of privacy materials; and Morrison & Foerster are to be commended for their initiative in making it available.