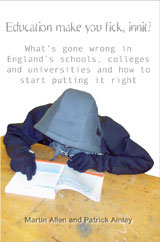 A pretty basic question, it would seem, for and from an academic, in quest for answers to which I regularly read the Times Higher Education Supplement (THES). This week's has an entertaining piece by Gary Day headlined "Oi Ofsted, leave them kids alone" (available here (THES; sub req'd) and here), reviewing Martin Allen and Patrick Ainley Education Make you Fick, Innit? (The Tufnell Press, 2007). The Introduction is available to download here here (pdf). The subtitle, "What's gone wrong in England's schools, colleges and universities and how to start putting it right", pretty much explains the book. From Day's review:
What a great title: Education Make you Fick, Innit? Of course there are some who enjoy natural advantages in the density department and they just require a little polish before going on to a successful career in politics.

I jest, but I was deeply depressed by the authors' analysis of what has gone wrong in schools, colleges and universities. Their argument is that education is not about freeing the mind, encouraging greater democracy or even preparing people for employment. No, its primary aim, demonstrated convincingly throughout, is social control.

My spirits revived at the last chapter, though, which suggests how we might put things right. First the diagnosis. … universities suffered more cuts than slasher movie victims. By the late 1980s, departments were closing, a trend that has intensified under new Labour. Business has an ever-greater say in the curriculum of schools and universities while, as the authors note, "learning is reduced to the completion of predetermined and measurable tasksâ€?. Everyone must have qualifications but, as one 16-year-old astutely remarks, "you have to work harder and harder to get worse and worse jobsâ€?.

What can be done? Don't just teach vocational skills, educate students about the history and meaning of vocation. Provide them with knowledge, skills and understanding and make them aware of "the real cultures of people who live in Britain�. Reduce class sizes and give control back to the teachers. The list goes on. But where are we to find the money? Abolishing Ofsted would save £200 million a year for a start.

The authors deserve far better than to have the word "excellent� bestowed on their efforts. Its constant use is symptomatic of what is wrong with the discourse of education: it has lost touch with reality. That is not a charge that can be levelled at Martin Allen and Patrick Ainley. They anchor their analysis in fact, put the mythical figure of "the learner� in context and give reasons to be cheerful. Education make you fick? Here's a book to make you fink. Give the authors your views [on their blog, radicaled].
Of course, it is a polemic; and polemics are always long on rhetoric and short on balance. But that is the beauty of a book like this: it forces us to think, and to engage with it, whether we agree with it or not. Food for thought, then, though not necessarily the full meal.