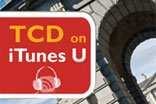 Last week, Trinity College Dublin became the first university in Ireland and one of the first in Europe to launch its own iTunes U site (press release | BBC | Irish Independent | Irish Times | Learning Tech | Lex Ferenda | Silicon Republic | Techno Culture | The Guardian). As Karlin argues, this is an excellent idea:
I think the availability of university content in this way has been one of the simply fantastic developments online — it's giving university extension classes, and lifelong education opportunities, to anyone with a computer … I've watched the gradual increase in college content via iTunes with some delight and am off to go find some free 'classes' to attend incognito again.
But is it really such a good thing? Roger Clarke, guesting on the wonderful House of Commons blog writes:
The iTunes conditions appear to preclude the University from making material placed on iTunes U subject to an open content licence. It appears that the conditions apply not only to the version available through iTunes, but also to versions available through other channels … That would mean that anything that a university makes available through iTunes is locked-down and proprietised … Unless and until the iTunes U conditions are found to be different from what I fear (or they are changed), content-producers who want their materials to be openly available need to refuse permission for them to be made available through that channel.
As you don't need a lawyer to tell you, the devil is always in the detail. I therefore look forward with great interest to finding out whether Roger's fears are realised.