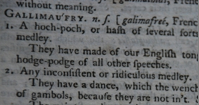 Dr Johnson defined gallimaufry as
1. A hoch-poch …
2. Any inconsistent or ridiculous medley. …
Here's another hoch-poch, or hotch-potch (though, of course, not a hotchpot) of links relevant to the themes of this blog that have caught my eye over the last while, including: unjust enrichment, research integrity, breach of contract, slavery, good samaritans, and privacy.

First, in my post When a corrupt enrichment is not necessarily unjust, I considered the inter-relationship between Ireland's proceeds of crime legislation and the law of restitution of unjust enrichment in the light of the decision of the High Court in Criminal Assets Bureau v J W P L [2007] IEHC 177 (24 May 2007). Via Steve Hedley's wonderful Restitition and Unjust Enrichment Legal Resources website, I (belatedly, and with apologies) learn of Skepticlawyer's post Proceeds of crime in trouble discussing the decision of the High Court of Australia in International Finance Trust Company Limited v New South Wales Crime Commission [2009] HCA 49, striking down an element of proceeds of crime legislation in New South Wales – compare the decision of our Supreme Court in Holland v Criminal Assets Bureau [2000] IESC 54 (7 April 2000) dismissing a challenge to the equivalent Irish legislation.
Second, a new European Code of Conduct for Research Integrity was presented by the European Science Foundation at the 2nd World Conference on Research Integrity. The code describes the proper conduct and principled practice of systematic research in the natural and social sciences and the humanities.
Third, Contracts Prof Blog blogged about the odd case of Dana Soderberg, who went to court to force her father to live up to a deal to pay her tuition at Southern Connecticut State University, and won! I suppose it's better than suing the university, alleging that a low mark is a breach of contract. Indeed, such suits give rise to the possibility that grade inflation has been 'fuelled' by fear of legal action.
Fourth, Omar Ha-Redeye hosted Blawg Review #278 on Law is Cool for International Day for the Remembrance of the Slave Trade and its Abolition; it's a powerful blogpost that puts my much shorter post on Contract law and the slave trade into context.
Fifth, section 4 of the recently-published Civil Law (Miscellaneous Provisions) Bill 2010 provides for the introduction of a new Part IVA of the Civil Liability Act, 1961 (also here) to implement the Law Reform Commission's recommendations (pdf) on the civil liability of good samaritans and volunteers which I discussed at the time.
Sixth, Bruce Cahan's post that we have lost a great deal of privacy, and that this loss has paid for the web as we know it, recalls my post You don't know what you've lost till it's gone? Privacy in a world gone Web2.0.