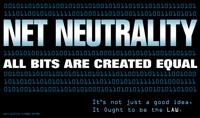 Net neutrality matters. The basic principle of equal access to the internet – and consequent absence of discriminatory restrictions upon or priorities for ISPs, governments, classes of content, kinds of equipment, or modes of communication – is crucial to the preservation of online freedom, ensuring that the internet remains a free, open, and democratic forum of communication. Much of the debate has concentrated on the position in the US, especially after the recent Federal Communication Commission's (controversial) Open Internet initiative. However, the Canadian Radio-television and Telecommunications Commission had already issued its (equally controversial) internet traffic management review; and the EU has recently conducted a public consultation on The open internet and net neutrality in Europe.
Dr Daithí Mac Sithigh (UEA | Lex Ferenda | @macsithigh) has written a superb paper on net neutrality in the EU and Canada ((2011) 14(8) Journal of Internet Law 3; via SSRN):
Regulating the Medium: Reactions to Network Neutrality in the European Union and Canada

Abstract: In this contribution on network neutrality, the expression-related elements of this issue are considered, including a case study of Ireland, highlighting the broad powers enjoyed by ISPs, and discussing whether the problem is a genuine one. While noting that the matter has been the subject of various publications by a sizable number of US scholars, space is then given to comparing the state of the debate in Europe, Canada, and the United States, drawing on principles of telecommunications law. It is argued that the link between telecommunications and media regulation is at the heart of the net neutrality debates in Canada and (to a lesser extent) the European Union, and that the non-applicability of certain US doctrines in these jurisdictions (due to different market conditions and the established role of competition law) does not mean that regulatory or legislative action is unnecessary. Finally, it is contended that the consideration of net neutrality in the context of important social and political debates regarding speech, plurality, and innovation is a better approach than one focused on ex post identification of the most egregious examples of discriminatory practices.
Update (10 March 2011): Ars Technica reports that a key subcommittee of the US Congress has voted to undo net neutrality rules.