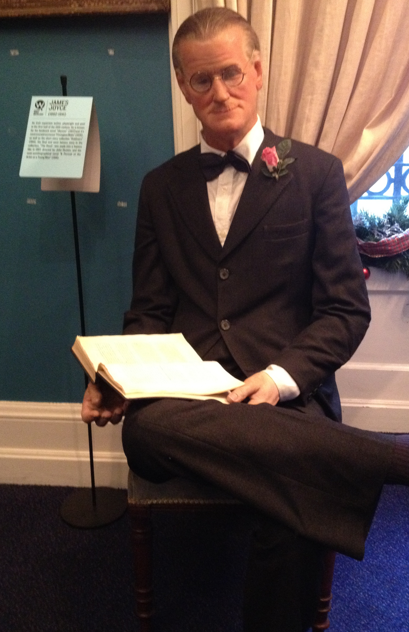 The combination of sections 24 and 35 of the Copyright and Related Rights Act, 2000 (also here; implementing EU Directives) means that copyright in a literary work expires from the first of January, 70 years after the death of the author (and it is the same for artistic works). For this reason, 1 January is Public Domain Day in the EU (and other life-plus-70-years jurisdictions), if not in the US (see: Communia | CSPD | Dag Blog | Everybody's Libraries | ex Africa semper aliquid novi Africa | Excess Copyright | Fair Duty | Michael Geist | Mike Linksvayer | Public Domain Day | Public Domain Manifesto | Public Domain Review | Techdirt here and here | The Atlantic Wire | Wikipedia).
Since James Joyce died on 13 January 1941, it means that he is among the many famous authors whose published works fall into the public domain today (1709 Blog | BBC | Irish Times here and here | Linda Scales | RTÉ | TheJournal.ie | The Verge).
I visited the National Wax Museum today, and, among the many photographs I took were the image of Joyce above left (click on the image for a larger size), and this sentence (presumably a facsimile of Joyce's handwriting, quoting from a letter he wrote to one of the early French translators of Ulysses):
The note says:
I've put in so many enigmas and puzzles, that it will keep the professors arguing for centuries over what I meant, and that's the only way of ensuring one's immortality.

James Joyce
Happy Public Domain Day and Happy New Year!
Updates: (1) I've added some links above; my favourite is the link to the 1709 Blog, which is the first of a series – during each of the twelve days of Christmas, that blog is bringing readers some information concerning an author, composer, artist or creator who died in 1941 and whose works fall into the public domain in 2012 in countries which operate a "life plus 70 years" copyright term.
(2) There's a great poster by Derecho a LEER, via Sarolta, and another by the Center for the Study of the Public Domain.
(3) Bonus link via Sinéad Gleeson on twitter (@sineadgleeson): 1929 recording of James Joyce reading from Finnegan's Wake on YouTube.
Further update: two interesting Joyce commentaries: (i) Gordon Bowker, author of a biography of Joyce: An end to bad heir days: The posthumous power of the literary estate; and (ii) Mark O'Connell Has James Joyce Been Set Free?.