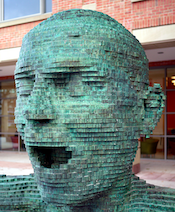 Queen's University Belfast has posted the following update on its Facebook page:
Following the completion of a comprehensive risk assessment, undertaken in line with approved protocols, the University is pleased to confirm that the Charlie Hebdo Research Symposium, organised by the Institute for Collaborative Research in the Humanities has been approved.
There's a shorter version on twitter. It is in line with a statement issued by Queen's that they would carry out such an assessment. This is excellent news. Having blogged about its cancellation (here and here), I'm delighted that the Institute will get to run its symposium on entitled "Understanding Charlie: New perspectives on contemporary citizenship after Charlie Hebdo". The Little Atoms site, which initially broke the news of the cancellation, welcomed the volte-face:
Victory for academic freedom as cancelled symposium is reinstated

… Jo Glanville, director of free speech advocacy group English PEN, welcomed Queen's University's decision, telling Little Atoms: "It's very good news that the conference is now going ahead. We need as much opportunity for debate as possible at a time when the ability to exercise the right to freedom of expression remains highly vulnerable."

Patrick Corrigan, Amnesty International's Northern Ireland Programme Director, said: "The decision by Queen's to give the go-ahead to the Charlie Hebdo event is clearly the right one. The original decision by the university to cancel the event generated significant public outcry, because people care passionately about this issue.["] …
More on this: BBC | Belfast Live | Belfast Telegraph | Guardian | Irish News | News Letter | THE.