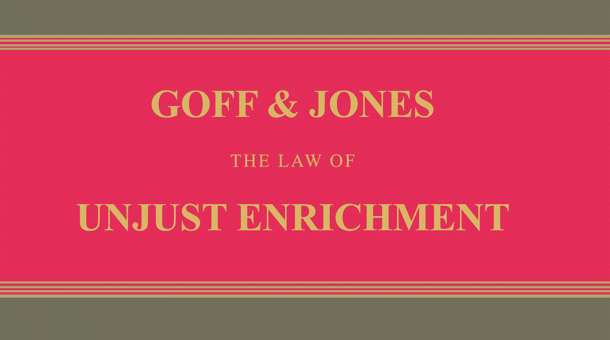 A conference on the theme of the Global Futures of Unjust Enrichment will be held on Friday 21 April 2017 and Saturday 22 April 2017 in the UCL Gustave Tuck Theatre, Wilkins Building, Gower Street, London WC1 (map here).
The Bentham House Conference 2017 celebrates the publication of the 50th anniversary edition of Goff & Jones: The Law of Unjust Enrichment, and honours the memory of the book's first authors, Lord Goff of Chieveley and Professor Gareth Jones, who both died in 2016. The conference brings together leading scholars from around the world to consider the future of unjust enrichment in overseas jurisdictions, and to discuss current problems and controversies in English law.
The emergence of the law of unjust enrichment as a distinct part of the law of obligations was the most important and radical development in English private law of the last hundred years. Academic writing played a significant role in this development, and most significant of all was Robert Goff and Gareth Jones's seminal work on the topic in 1966. The speakers paying tribute to Goff and Jones are a veritable who's-who of contemporary private law. On Friday 21 April 2017, they will discuss the future trajectory of the law of unjust enrichment in overseas jurisdictions; and on Saturday 22 April 2017, they will consider a series of important issues which have been thrown up by the English case law over the past decade, and which will require significant further attention from the courts.
The conference has been convened by Professor Charles Mitchell (UCL), Professor Paul Mitchell (UCL) and Dr Stephen Watterson (Cambridge). More information about the conference, including the draft conference programme, speaker biographies, and booking, is available here.