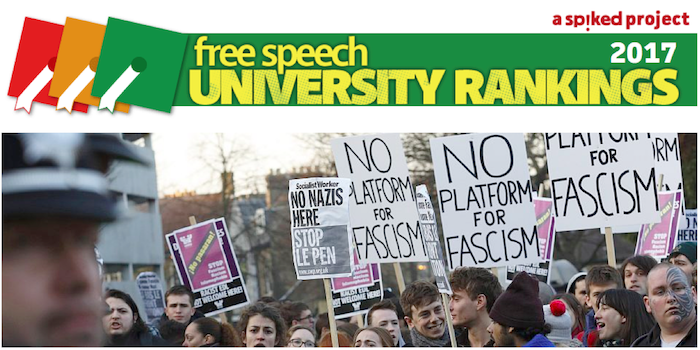 I have written on this blog in the past about university free speech rankings in the UK and the US. The online current affairs magazine, spiked, has published its third annual Free Speech University Rankings (FSUR) of the UK's universities (THE | The Tab | The Times here and here):
… it paints a grim picture. Our survey, ranking 115 UK universities using our traffic-light system, shows that 63.5 per cent of universities now actively censor speech, and 30.5 per cent stifle speech through excessive regulation. This marks a steady rise in censorship over the past three years. Now only six per cent of UK universities are truly free, open places.
Tom Slate, Deputy Editor of spiked, and co-ordinator of the survey, comments:
For anyone who's been anywhere near a campus recently, this will come as no surprise. Students' unions no longer just No Platform the odd edgy speaker – they ban 'tarts and vicars' parties and 'offensive hand gestures'. But what's perhaps most striking in this year's findings is how fast universities are catching up. Though SUs are still far more censorious than universities, 23.5 per cent of university administrations are now ranked Red, compared with 15 per cent just last year.
The Foundation for Individual Rights in Education (FIRE) maintain an equivalent survey of US universities; and the Institute of Public ­Affairs do the same in Australia. These assessments are not the only sources of such dispiriting information. Direct surveys of students on campus in the US (pdf) and the UK (pdf) found that, while students support free speech in principle, many are willing to entertain significant restrictions. In any event, and whatever about Trinity's return to the Times Higher Education's World University Rankings, in my view a green light on these free speech rankings would be a university ranking worthy of the name. If any benefactor out there wants to support similar research for higher education institutions in Ireland, I would be happy to co-ordinate it. Roll up; roll up!