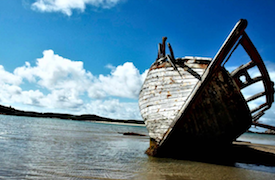 When I was in school, I learned a song in Irish called Báidin Fheilimí. It's about Phelim's boat, sailing to islands off Donegal, in the north-west of Ireland. In the first verse, it sails to Gola Island; in the second, it sails to Tory Island; and, in the third, the lively little boat is wrecked on the rocks off Tory. The song left a romantic image of Tory in my mind. Neville Presho probably had a similar image; but, like Phelim's boat, it has been wrecked on Tory rocks. He had a holiday home on the island. Until, one day, he returned to the island, and found that the house was gone, replaced by car park for an adjacent hotel. I have, on this blog, been following his action against the hotel (see here, here, here, here). In Presho v Doohan [2009] IEHC 619 (17 July 2009), Murphy J held that the appropriate remedy lay not in reinstatement of the demolished house "but in the provision of a comparable dwelling on Tory Island or the open market value of a comparable dwelling on the island". He later held that this amounted to €46,000. The story has resulted in a book and tv documentary. Now, from the Irish Independent, I learn both that the matter was appealed by both parties, and that the various appeals have been discontinued:
The Supreme Court has struck out an appeal over a €46,000 valuation placed on a man's Tory Island holiday home that "disappeared" while he was abroad over a number of years. … After he won in the High Court in 2009, both defendants brought appeals against that court's ruling.

When the matter came before the Supreme Court yesterday, it heard Mr Doohan, who was not in court, had stated he was not proceeding with his appeal. The appeal by Ostán Thoraigh Comhlacht Teoranta had been withdrawn last November. In those circumstances, the court struck out Mr Doohan's appeal and affirmed the High Court orders. …
The Irish Times has a similar report. An earlier stage of the appeal was dismissed last November (see here, here, and here). And so ends a very sad tale, not with a bang but with hardly a whimper.