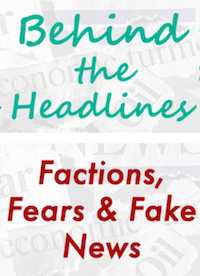 In Trinity College Dublin, where I work, the Long Room Hub is the College's Arts & Humanities Research Institute. It hosts over 250 events each year, including a discussion series entitled Behind the Headlines, which offers background analyses to current issues by experts drawing on the long-term perspectives of Arts & Humanities research. In particular, the series "aims to provide a forum that deepens understanding, combats simplification and polarization and thus creates space for informed and respectful public discourse."
In the recent past, the series has featured discussions on artificial intelligence, Trump's America, Syria, and Brexit (not once but twice). The next event in this series will be on Monday 6 November 2017, 6:30pm to 8:00pm, on
In a world where truth is under siege, freedom of speech has never been more important. But, as outrage and offense in public debate become a commodity for social media technology giants, the future of professional journalism in educating public opinion while challenging authority and power is increasingly under attack. …

This discussion is part of the 'Fears, Factions and Fake News' symposium held in conjunction with Columbia University and in partnership with Independent News and Media.
I am one of the four speakers; the other three are Professor Todd Gitlin (Columbia Journalism School, Columbia University), Dearbhail McDonald (Independent News and Media Group Business Editor) and Andrea Martin (media lawyer and speaker, MediaLawyer Solicitors).
Last Sunday, under the headline Major free speech symposium by INM, TCD and Columbia, the Sunday Independent ran a piece by Wayne O'Connor about the 'Behind the Headlines' discussion and the other events in the symposium. This provoked a response by Peter Murtagh in this morning's Irish Times:
Conference, partly funded by INM, has been criticised because of links to Denis O'Brien

A leading US academic due to speak at a conference partly funded by Independent News and Media has said he "will defend the right to seek truth and to campaign against any and all assaults on the freedom of speech". Prof Todd Gitlin of Columbia University's prestigious school of journalism will participate in a seminar on November 6th entitled Freedom of Speech – where journalism and law collide.

The conference has been criticised because of the links to Denis O'Brien, a leading INM shareholder and the owner of Communicorp, one of the biggest radio stations groups in Ireland. … Saying that he had not "previously heard" of Mr O'Brien, Prof Gitlin said: "Please be assured that in any setting, with anyone's funding, I will defend the right to seek truth and to campaign against any and all assaults on the freedom of speech."
So, an event about "behind the headlines" is making headlines itself. Peter also sought a comment from me, but I was too disorganised to reply to him in time for inclusion in the article. My reply was not as articulate or punchy as Todd's, but the substance is the same. Trinity College Dublin guarantees to respect, defend and vindicate the traditional principles of academic freedom and freedom of expression. I rely on those principles in what I teach, and research, and write. More than that, I defend them in what I teach, and research, and write. I have therefore been very critical, on this blog and elsewhere (eg, here, here, abd here), of Denis O'Brien, the main shareholder in Independent News and Media, and serial litigant against critics.
Neither INM, nor any of the organisers of the event on 6 November, nor indeed any of the other speakers, nor anyone else, has had any input into what I will or will not say in my contribution. I would not participate in the Hub's event under those circumstances. It will be an open and public event and I'm looking forward to a robust debate. I have published many op-eds, in the Irish Times and Irish Independent, defending freedom of expression. Neither the Irish Times Trust nor INM had any impact on what I wrote on those occasions. I would not have written or published a piece under those circumstances.
It is very important that those in favour of freedom of expression and media pluralism should take every opportunity to press for those crucial principles. When I take those opportunities, I always speak to the merits of the issue as I see them, whatever the views of the relevant organiser or owner, and I will do so at the Hub's event on 6 November. Consequently, I do not think that it matters if the Hub's event on 6 November is promoted, or supported, or sponsored by INM, because INM have no impact on the content of the event whatsoever. Instead, in my view, what matters is that INM's practices and those of their owners are as open for debate and criticism at the Hub's event as the practices of any and all other groups, organisations and States.
There are many serious threats to freedom of speech in modern society. It is undoubtedly a good thing that Hub is organising an event to discuss them. The challenge to the current Irish media landscape posed by O'Brien is a serious one; but it is not the only one; and it will not be the sole focus of the event on 6 November. Rather, I understand that it will cover a wide range of risks posed to freedom of speech both offline and online. All are welcome to attend; the event is free; but registration is required. The Irish secretary of the National Union of Journalists, Seamus Dooley, said he thought people should participate and express their views: "I would encourage people to turn up in large numbers and speak". I agree. Please do.