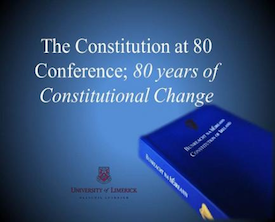 A conference to mark 80 years of Bunreacht na hÉireann, the Irish Constitution, will be hosted by the School of Law, University of Limerick on 11 November 2017 in the Irish World Academy of Music and Dance. The conference will bring together judges, scholars, practitioners, and those with experience of constitutional governance to reflect upon and discuss the past, present and future of Ireland's constitutional order at this important milestone. Keynote presentations will be delivered by Emily Logan, Chief Commissioner of the Irish Human Rights and Equality Commission, and Mr Justice Donal O'Donnell, Judge of the Irish Supreme Court. I will be delivering a paper in the following panel:
PROPERTY, SOCIAL ECONOMIC RIGHTS AND INJUSTICIABILITY

Dr Eoin O'Dell: Property Rights, Proportionate Restrictions, and Media Pluralism

Dr Claire M Smyth: Social and Economic Rights, Irish Constitution and International Obligations

James Rooney: The Injusticiable Constitution and the Common Good: The Preamble and Directive Principles in Contrast
This is the abstract of my paper:
A Report on the Concentration of Media Ownership in Ireland (2016) raised "grave concerns about the high concentration of media ownership in the Irish market", and the Irish report for the EU's Media Pluralism Monitor recommended that legislative limits on levels of media concentration should be applied retrospectively. As a consequence, a Private Members' Bill, the Media Ownership Bill 2017, proposed to permit the Minister for Communications, Energy and Natural Resources to take "retroactive measures" to reduce "significant interests" held by "any one relevant media asset". This plainly engages the Constitution's protections of property in Article 40.3 and Article 43.1, which are among the most consistently litigated of its rights since 1937. This paper will consider the nature and extent of the Constitution's protections of property, the strength of media pluralism and diversity as elements of social justice or the common good that can constitutionally limit property rights, and the extent to which the Bill nevertheless constitutes an unjust (usually, a disproportionate) attack on any engaged property rights.
Kudos to Laura Cahalane and David Kenny, and to their team in UL, Hope Davidson, Caitlin Moyne, and Stephen Strauss-Walsh, for putting together such a great event. The draft programme may be downloaded here (.docx); all are welcome to attend; there is a modest fee; and registration is required.