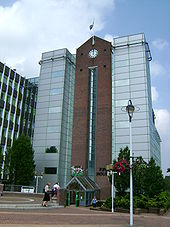 In 2016, Fife was said to be the happiest place to live in Scotland, at least according to the Bank of Scotland Happiness Index. But it may not be quite so happy for a man who was recently overpaid nearly £300,000 by Fife Council and now has to pay it back (that's Fife House, North Street, Glenrothes, Fife, Scotland, the seat of Fife Council, in the picture). According to Irish Legal News yesterday (also here and here):
Fife Council, in Scotland, was supposed to pay the man £59.95 a week, but accidentally paid £59,395 per week instead – and didn't notice until around £297,000 was paid out. … Most of the cash has been recovered and a repayment plan has been put in place to recover the remaining sum, around £12,000.
It was a monumental banking blunder from an administrative worker at the council who made a "keying error". This resulted in five massive weekly overpayments during July and August, before council officials discovered the error. This is a spectacular example of a butterfly-effect typo; and Irish Legal News has another example today: a judge calculating a half-billion dollar damages award typed $107 million rather than $107 thousand into his calculator.
Moreover, as I have written many times on this blog (see, eg, here, here, here, here, here, here, here, here, here, and here) the recipient of a mistaken overpayment has a duty to make restitution of the mistaken payment; otherwise, retaining and spending the money could result in prosecution for theft.
Scots law is to the same effect. In Morgan Guaranty v Lothian RC 1995 SC 151, [1994] ScotCS CSIH_3 (01 December 1994), in the Inner House of the Court of Session, Lord President Hope (Lords Mayfield and Kirkwood concurring) held that repetition in the condictio indebiti for the recovery of money paid in error was an action to reverse an unjustified enrichment, and Lord Clyde and Lord Cullen delivered short judgments to the same effect (see also Compangnie Commerciale Andre SA v Artibell Shipping Co [2001] ScotCS 42 (21 February 2001); Somerville v Scottish Ministers 2007] 1 WLR 2734, [2007] UKHL 44 (24 October 2007); MacKays Stores Ltd v Toward [2008] ScotCS CSOH_51 (28 March 2008); Braes v The Keeper of the Registers of Scotland [2009] ScotCS CSOH_176 (30 December 2009); Alliance Trust Savings v Currie [2016] ScotCS CSOH_154 (03 November 2016)). Morgan Guaranty held, in particular, that the fact an error is an error of law does not preclude the claim as a matter of Scots law; and, when the House of Lords held that a mistake of law does not preclude a claim in restitution as a matter of English law, Lord Hope reached the same conclusion (see Kleinwort Benson v Lincoln City Council [1999] 2 AC 349, [1998] UKHL 38 (29 October 1998)).
Hence, to remain happy, the recipient of Fife Council's largesse must return the money as a matter of law, since it would be recoverable by them in a condictio indebiti as money paid in error.