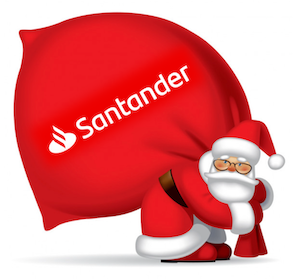 Banks are more often cast in the role of Scrooge than Santa; and, even when they start out in the latter role, they end up in the former.
For example, where over-active ATMs played Santa and permitted withdrawals of amounts greater than available funds or credit, the bank quickly became Scrooge, insisting that all money withdrawn by customers in excess of their balances will have to be repaid. Unlike in monopoly, you cannot retain the proceeds of a bank error in your favour. It's not a gift either from God or from the bank. As I have explained many times on this blog, this is a mistaken payment, and the recipient must return it, unless there is a defence. And, if it is not returned, it could constitute theft.
Just before Christmas, Santander bank found itself first as Santa and then as Scrooge:
Thousands of people received a surprise gift on Christmas Day this year when European bank Santander accidentally deposited £130 million ($176 million) across 75,000 transactions.

The mistake happened when payments from 2,000 business accounts in the U.K. were processed twice, meaning some employees saw their wages double, while suppliers also got more than they were expecting.
…