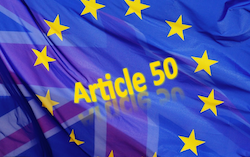 It's not everyday that the prospect of an action in the Irish High Court makes worldwide headlines. But a case about the mechanism by which a member state can depart from the European Union is doing just that.
The background lies in last June's referendum in the United Kingdom, in which the majority voted leave the EU. As a matter of European law, the departure process is provided in Article 50 of the Treaty on European Union. The UK Prime Minister, Theresa May, has stated repeatedly that she wants to begin this process before the end of March next year, and the House of Commons on Wednesday voted to approve this timetable.
The Article 50 process is a recent enough creation. It was inserted into the Treaty by the Treaty of Lisbon in 2007, and it came into force in 2009. It provides that a departing state must notify the European Council of its intention to leave; and it gives the EU and the departing state two years to negotiate the departure arrangements. But the departure of a state from the EU hasn't happened before; so we are in uncharted waters, both politically and legally; and ambiguities in the text of Article 50 don't help.
It is not clear, for example, what form the notice to the European Council must take. Neither is it clear whether the two year process can be suspended, or whether a state which has started the process can change its mind and stop the withdrawal process. Nor is it clear what impact withdrawal from the EU would have on the withdrawing state's relationships with other European bodies, such as the European Economic Area (the EEA). Where a matter of EU law is unclear, the Court of Justice of the European Union (the CJEU) in Luxembourg is the only authoritative source of a binding answer. And Article 267 of the Treaty on the Functioning of the European Union provides a mechanism by which a national court dealing an issue of EU law can seek a preliminary ruling from the CJEU. So, any party to a case raising an unclear issue of EU law, such as Article 50, can ask the court to refer that issue to the CJEU.
The plaintiffs seeking a reference from the High Court to the CJEU about the meaning of Article 50 are likely to be Members of the European Parliament for various UK constituencies [a draft statement of claim is here (pdf)], possibly including some from Northern Ireland. It's constitutional litigation, but really the continuation of politics by other means. Nevertheless, the sight of politicians making constitutional arguments about political grievances is not an unusual one in Irish courts.