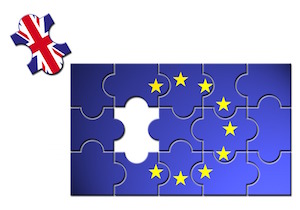 I still can't believe the news about Brexit, and I suspect the same is true of many on both sides of the issue. Since then, there has been much talk about Article 50, and much speculation about the possibility of a second referendum to undo the first. In this brief post, I want to put those two issues together. First, Article 50 is an article of the Treaty on European Union inserted by the Treaty of Lisbon. It is the mechanism by which a Member State may leave the EU. It provides in full as follows (with added links):
Any Member State may decide to withdraw from the Union in accordance with its own constitutional requirements.
A Member State which decides to withdraw shall notify the European Council of its intention. In the light of the guidelines provided by the European Council, the Union shall negotiate and conclude an agreement with that State, setting out the arrangements for its withdrawal, taking account of the framework for its future relationship with the Union. That agreement shall be negotiated in accordance with Article 218(3) of the Treaty on the Functioning of the European Union. It shall be concluded on behalf of the Union by the Council, acting by a qualified majority, after obtaining the consent of the European Parliament.
…