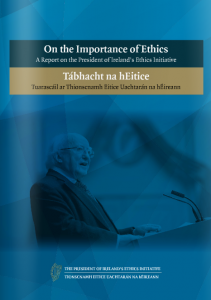 In 2014, I spoke at a public forum on cyberethics at the Trinity Long Room Hub. The event was part of the President of Ireland's Ethics Initiative, and on Monday of this week, President Higgins launched On the Importance of Ethics, a report on the initiative. In his speech at its launch, President Higgins said that, during the conversations around the initiative
.. new important themes emerged, and many significant problems and obstacles were identified; for example the necessity of restoring trust in public institutions;, the need to return to the language of 'citizen' instead of 'customer' 'taxpayer' or 'client'; and the consequences of returning to what I have referred to as a de-peopled version of the economy as we move out of recession. Again and again the importance of locating economic policy within a framework of social values that could create and sustain social cohesion came to the fore of discussions.
Speaking to Patsy McGarry of the Irish Times after the launch (report | video), the President expanded on this theme:
I can't obviously comment on the platforms of the parties that will contest the election. But is it possible to have a decent society and at the same time continue to lower taxes for the purposes of securing the best short term benefit?
…