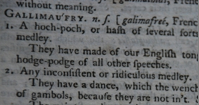 Dr Johnson defined gallimaufry as
1. A hoch-poch …
2. Any inconsistent or ridiculous medley. …
Here's a hoch-poch, or hotch-potch (though, of course, not a hotchpot) of links relevant to the themes of this blog that have caught my eye over the last while:
First, an Article 10 Right of Reply? considers the various routes to a legally enforceable right to reply to inaccurate information in the same medium where the original statements were published. In this post, Andrea Martin argued that such a development is neither necessary nor desirable, but that a voluntary scheme operated by broadcast media would have a lot to recommend it.
Second, the Irish judiciary has signalled support for setting up a judicial council, a development anticipated by the ICCL in 2007 which I welcomed at the time.
Third, Slate recently published No More Bullet Points, No More Clip Art (h/t Oisín, offline) arguing that "PowerPoint isn't evil if you learn how to use it". But so many people fail to learn how to use it that I have no doubt that my antipathy will continue.
Fourth, a story in the Independent on Plagiarism and PhDs: how to deal with copying says that it "may seem counter-intuitive but postgraduates are more likely to commit plagiarism than undergraduates".…