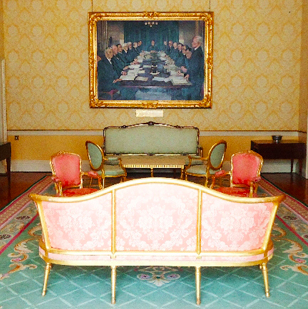 Article 31.1 of the Constitution provides that there "shall be a Council of State to aid and counsel the President on all matters on which the President may consult the said Council …". The image, left, is a painting of the Council of State hanging in the Council of State Room in Áras an Uachtaráin, the President's official residence. One matter on which the President must consult the Council of State is provided by Article 26.1.1:
The President may, after consultation with the Council of State, refer any Bill to which this Article applies to the Supreme Court for a decision on the question as to whether such Bill or any specified provision or provisions of such Bill is or are repugnant to this Constitution or to any provision thereof.
On foot of this power, President Higgins convened a meeting of the Council of State to consider whether to refer the Protection of Life During Pregnancy Bill 2013 to the Supreme Court under Article 26; and that meeting is due to begin right about now (see: Irish Examiner here, here, and here | Irish Independent here and here | Irish Times here, here, and here | RTÉ | TheJournal.ie here and here). Update: Writing on ConstitutionProject.ie, Laura Cahillane of UCC provides an excellent overview of the issues which arise on this reference, including – the question of conflict of interest addressed in this post, and an earlier one, on this blog; immunity from future constitutional challenge of Bills approved by the Supreme Court; the propriety of the single-judgment rule; and the amount of time provided by Article 26 for the Supreme Court's consideration.
This summoning of the Council of State is an unsurprising – even predictable – development; and those who sought to manufacture a controversy out of the reference were misguided (to say the least) as to the President's constitutional rights, powers and discretions. As to the outcome of the meeting, whilst I think that the chances of a reference are 50/50, I would not be surprised if the President does ultimately decide to refer the Bill. After all, the Regulation of Information (Services outside the State for the Termination of Pregnancies) Bill 1995 was referred to the Supreme Court under Article 26. The Supreme Court upheld the Bill (see [1995] 1 IR 1, [1995] IESC 9 (12 May 1995)) and the Bill was duly enacted into law.
There has been much analysis of whether the President should refer the Bill, and if he does, what the Supreme Court might make of it; doubtless, after today's meeting, there will be much further analysis and commentary. I will leave those issues to others; but, now that the meeting has started, I would like here to raise two small procedural points. The first relates to a possible conflict of interest in the membership of the Council of State; the second relates to the standard on foot of which the President will consider whether to refer the Bill or not.