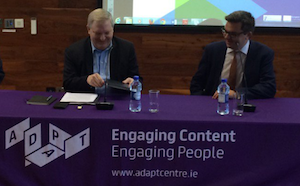 My favourite Steve Jobs aphorism (and there are so many from which to choose) is
People who know what they're talking about don't need PowerPoint.
(see Steve Jobs by Walter Isaacson (Simon and Schuster, 2011) 337). Last Thursday, Chris Kuner elevated this from apothegm to axiom, resoundingly proving the truth of that insight, by providing a masterclass in compelling presentation without resort to the crutch of powerpoint or similar slides. Chris is pictured above left, chatting with David Fennelly, before delivering a powerful lecture on "Reality and Illusion in EU Data Transfer Regulation" in the light of the decision of the Court of Justice of the European Union in Case C-362/14 Schrems v Data Protection Commissioner [2015] ECR I-nyr (Grand Chamber, 6 October 2015) to a rapt audience in Trinity College Dublin. He began with a quote from Chekov:
Dearer to us than a host of truths is an exalting illusion.
This is from Chekov's short story "Gooseberries" (see Richard Pevear and Larissa Volokhonsky (tr) Selected Stories of Anton Chekov (Random House, 2009) 311 at 317), where the Nikolai is deluding himself that his gooseberries – actually "hard and sour" – are in fact the succulent and luscious fruit which he had always dreamed of growing. So it is, Chris argued, with EU regulation of trans-border data flows, which is at present an exalting illusion running up against a host of political realities.
In Schrems, the CJEU held that national data protection authorities [DPAs] could independently make decisions on the adequacy of data protection regimes in countries to which EU data is exported, notwithstanding a Commission decision on such adequacy, and that the Commission Safe Harbour decision on the adequacy of the US data protection regime was invalid. Four themes can be discerned in the judgment. First, there is a strong affirmation of the right to data protection under the EU Charter of Fundamental Rights, building on the prior judgments in Joined Cases C-293/12 and C-594/12 Digital Rights Ireland and Seitlinger (Grand Chamber, 8 April 2014) [and Case C-131/12 Google Spain (Grand Chamber, 13 May 2014)]. Second, EU data protection standards – and in particular, the Charter – apply to transfers to third countries. Third, the CJEU elevated the role of independent national DPAs (especially as against the EU Commission) and empowered individuals to complain to such DPAs. And, fourth, the CJEU held that the "adequate level protection" of international transfers of data required by EU law is equivalent to the level of data protection provided by EU law – Chris stressed that "equivalent" here is not necessarily "identical", but that this is still a high bar.
The impact of the CJEU decision in Schrems goes far beyond the context of the invalid safe harbour. Chris gave four examples. (more…)