Last major update: 15 January 2018
Note: a line was added at the end on 7 June 2018.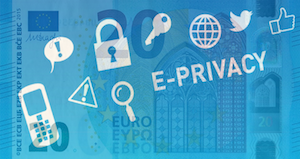 Parallel to my interest in compensation for breach of the General Data Protection Regulation [GDPR; Regulation (EU) 2016/679], I am also interested in the question of compensation for breach of the proposed ePrivacy Regulation (hereafter: pePR; see, eg, the EU Commission's proposal for a Regulation on Privacy and Electronic Communications; on which see Flash Eurobarometer 443 Report on e-Privacy (pdf download)).
Article 22 of the Commission's proposal provides:
Any end-user of electronic communications services who has suffered material or non-material damage as a result of an infringement of this Regulation shall have the right to receive compensation from the infringer for the damage suffered, unless the infringer proves that it is not in any way responsible for the event giving rise to the damage in accordance with Article 82 of Regulation (EU) 2016/679.
The emphasised words appear in exactly the same form in Article 82(1) GDPR. The remainder of Article 82 provides circumstances where an infringer is not responsible for the event giving rise to the damage and thus not liable for breach of the GDPR, and those circumstances apply mutatis to an infringer who would not be liable for breach of the pePR.…