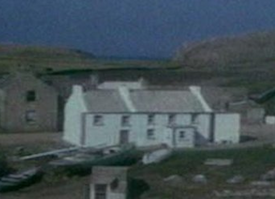 Tory Island is a small island of striking natural beauty off the northwest coast of Co Donegal. So, film-maker Neville Presho must have thought himself a lucky man to have a holiday home there. Until, one day, he returned to the island, and found that the house was gone, replaced by car park for an adjacent hotel (Irish Emigrant | Irish Independent | Irish Times | Kerryman | RTE | Soft Irish Rain). In an ongoing High Court action [an important preliminary stage is here], Mr Presho's claim against the hotel in respect of the demolition of the house failed, but Mr Justice Murphy suggested that there may be a restitution claim for the hotel's use of the site as a car park. Tim Healy's story in yesterday's Irish Independent explains the restitution claim:
Holiday home 'vanished' while owner was absent

A Tory Island hotelier who built a car park on the remains of a 150-year-old holiday home which burnt down may have to pay damages to its former owner. A High Court judge who is presiding over a legal row over a holiday home which allegedly "disappeared" and became a car park for an adjoining hotel yesterday said the case may be dealt with on the basis of unjust enrichment by the hotel.
…