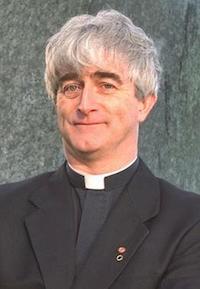 In the classic comedy television series Father Ted (Channel 4 | IMDB), the title character, Fr Ted Crilly (pictured left, as portrayed by actor Dermot Morgan) often claimed "That money was just resting in my account!". We learn early in the first series that Ted was exiled to Craggy Island for stealing money intended to send a child to Lourdes and using it for a trip to Las Vegas (S1E3). In various subsequent episodes (S1E6; S2E4; S2E6; S3E8) he claims that the money was just resting in his account. I was reminded of this by an article (sub req'd) by Fiona Ferguson currently on the front page of Courts News Ireland:
A Malawian man charged with money laundering who told gardai that he found €17,000 in his bank account when checking to see if his wages had been paid has avoided a jail term.

John Carlos (32) used some of the money to pay his college fees before transferring €12,000 to a savings account. He then contacted the bank to alert them to the €17,000 and the transfer he had made.
…