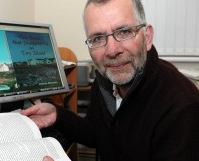 Journalist Anton McCabe (pictured left) has written a book about The House that Disappeared on Tory Island (Drumkeen Press, 2012), which was launched by former editor of the Irish Daily Star Michael O'Kane. Film-maker Neville Presho bought a house on Tory Island, but it vanished whilst he was abroad. I have written on this blog about the resulting court case. Now Anton McCabe tells the whole sad story. At the launch of the book, he said, "It is a great story and a true testament to … [Presho's] refusal to give up his fight for justice".
In advance of the launch, McCabe gave an interview to the Ulster Hearld which explained his involvement in the case:
I had been going to Tory Island for quite a number of years and islanders had told me they were unhappy with what had happened … Going over in the ferry at Easter 2003, I was standing on the prow of the boat when I fell into conversation with another man before I realised he was the householder, Neville Presho. He was surprised I knew so much and had gone through a terrible time by then. Soon after that, which was ten years after the house had been destroyed, things started to happen.
…