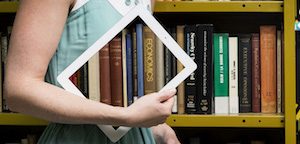 The Department of Arts, Heritage, Regional, Rural and Gaeltacht Affairs, on behalf of the National Library of Ireland, is currently undertaking "a consultation on the legal deposit of published digital material in the 21st century in the context of copyright legislation" (see here and here). In particular, the Department welcomes submissions in relation to three questions:
Question 1: Should the policy of collecting, preserving and making available the published output of the nation for the benefit of the public be extended to include all contemporary publication formats of Irish interest including online digital formats e.g.,.ie websites?
Answer: Yes.
I have already set out my views on this issue on this blog. The starting point is Section 198 of the Copyright and Related Rights Act, 2000 (also here), which provides that publishers of books and other paper publications must deliver a copy of each book or publications published in the state to various copyright deposit libraries. Most countries worldwide have similar provisions, and they ensure the preservation and the availability of a nation's published heritage. With the rise of digital publishing, it is increasingly being recognised that print deposit is incomplete, and that a comprehensive preservation of a nation's published heritage requires that copyright deposit should extend to online publications as well. As a consequence, countries with copyright deposit legislation are amending their legislation to ensure that generations of will have access to today's online stories. As a consequence, the Copyright Review Committee (of which I was chair), in the Modernising Copyright Report (pdf), recommended amendments to the 2000 Act to extend the existing copyright deposit regime for print publication in section 198 to digital works. In particular, we recommended some changes to the existing section 198; and we recommended a new section 198A broadly modelled on the existing section 198 CRRA, to ensure that the process of claiming digital publications is as similar as possible to the existing familiar process relating to books and other print publications. And we additionally recommended that the copyright deposit institutions should be able to make copies of our online digital heritage whilst it is available. No doubt our recommendations and drafts can be improved, but I remain convinced that they are an excellent starting point for achieving a feasible digital copyright deposit regime in Ireland.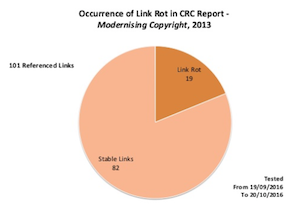 Question 2: What issues arise if a policy extension on digital legal deposit is not provided for?
Answer: The real point about the size of the digital universe in the future is not about how big it will be (it will be huge) but how much is being lost (that is also huge). To take only one example, Sharon Healy did a study of link rot in the Modernising Copyright Report, and she concluded that 20% of the links in the footnotes of that Report are broken, meaning that the linked resource is no longer available. And our sources were official or public ones. To my mind, this is a perfect encapsulation why copyright deposit institutions should be able to claim digital publications and make copies of online resources – even the formal material is disappearing at frightening pace. In the US, the nonprofit Internet Archive harvests more than 250m webpages a week; it is now more than 20 years old. However, the copying by any Irish equivalent would infringe copyright in the material harvested, which is why an amendment to copyright legislation is necessary; we are already 20 years late; and the longer we wait, the bigger and blacker the digital black hole of lost material will become. It is a challenge our libraries and heritage institutions are willing to meet, if only they are let.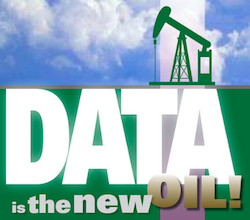 Question 3: What are the benefits if a policy extension on digital legal deposit is provided for?
Answer: The benefits will be not only cultural but also economic. On the cultural side, exciting projects in TCD Library and the NLI show the potential. On the economic side, the cover story of this week's Economist tells us the world's most valuable resource is no longer oil, but data. To take only one example, the field of Artificial Intelligence (AI) is red hot, but researchers need data on which to train and develop their AI engines. The loss of culturally significant data diminishes AI data-sets and impoverishes decisions based upon them. More generally, a proper archive of digital publications will be a resource for citizens and researchers, at home and abroad, now and in the future. The generations to come will not thank us if we do not legislate now for legal deposit of digital publications.