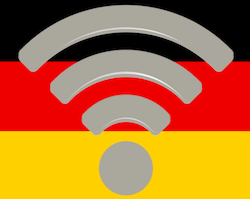 In the early days of this blog, I wrote three posts on whether there is a criminal or civil legal liability for using other people's wifi without permission.
I was reminded of these posts yesterday, when Edmund Heaphy (a student in Trinity, and a journalist at Quartz) contacted me about the following story:


Germany is about to get a lot more free wifi. One of the country's highest courts has upheld a 2017 law designed to put an end to the effect of a peculiar legal concept known as Störerhaftung as it applies to public wifi networks. …
Whilst the decision of the Bundesgerichtshof (Federal Court of Justice) is very welcome, German lawyers have told the World Intellectual Property Review that more clarity is needed. As Mateusz Rachubka points out o the 1709 Blog, the 2017 legislation is a result of the decision of the CJEU in Case C-484/14 Tobias McFadden v Sony Music Entertainment Germany GmbH, which held that the eCommerce Directive (Directive 2000/31/EC; OJ 2000 L 178, p. 1) precluded a rights-owner seeking damages from an access provider whose open network was used by a third party to upload or download material that infringed copyright, but did not preclude the rights-owner seeking an injunction requiring the access provider to terminate or prevent a copyright infringement.