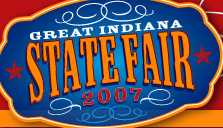 A story that caught my eye in the New York Times a little while ago. During this year's Great Indiana State Fair, punters could still purchase seep-fried oreos, …
… but not in trans fats!
Only in the land of the free and the home of the brave. The New York Times article (sub req'd) provided:
Yes, Deep-Fried Oreos, but Not in Trans Fats

The deep-fried Combo Plate may be a little more healthful this year at the Great Indiana State Fair. So say the fair's leaders, who, taking a step rarely seen in the realm of corn dogs and fried pickles, have banned oils with trans fats from all the fryers that line the grounds here. …

This is a slice of heaven,â€? said Ryan Howell, 31, as he cradled his Combo Plate, which, for the record, consists of one battered Snickers bar, two battered Oreos and a battered Reese's Peanut Butter Cup — all deep-fried in oil that is trans-fat free, thank goodness. …

Jeremy Orme, who runs Fried Creations, the home of the Combo Plate, introduced a new item at this year's fair: deep-fried Pepsi. He rolls out his Pepsi-based dough, dips it in a batter made with Pepsi and deep-fries it for 90 seconds. His oil, made of soybeans, is trans-fat free as required, and on the front of his booth he has posted a local newspaper's account about the fair's trans-fat ban. …
Can Scotland's deep fried mars bar (BBC | National Geographic | wikipedia) be far behind?