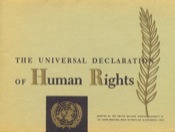 According to this page, the image on the left
is an exact copy of the cover of the Universal Declaration of Human Rights which was placed in the Cornerstone of the United Nations Headquarters Building by Trygve Lie, Secretary-General of the United Nations, at the time of the Cornerstone Ceremony which was held at 12 noon, October 24th, 1949, at a special meeting of the Fourth Regular Session of the General Assembly, at the Headquarters site on 42d Street, New York.
The Universal Declaration of Human Rights was adopted by the United Nations General Assembly at its 183rd meeting, held in Paris on 10 December, 1948 (and that date has ever since been Human Rights Day). Article 19 of the Declaration provides:
Everyone has the right to freedom of opinion and expression; the right includes freedom to hold opinions without interference and to seek, receive and impart information and ideas through any media regardless of frontiers.
Taking its name from this text, ARTICLE 19 is an international human rights organisation which defends and promotes freedom of expression and freedom of information all over the world. ARTICLE 19 believes that the full enjoyment of this right is the most potent force to achieve individual freedoms, strengthen democracy, and pre-empt repression, conflict, war and genocide. One of its current advocacy campaigns relates to honorary ARTICLE 19 board member and 1991 Nobel Peace Prize Laureate, Aung San Suu Kyi (personal site | wikipedia). ARTICLE 19 has joined a worldwide campaign to demand her release and continues to lobby Western governments and international governmental organisations to raise their concerns when meeting with governments who exert considerable influence over the Burmese junta.
I've just been made aware that ARTICLE 19 has, for some time, been running a fundraising campaign called the Global Campaign from Free Expression; and I've added a button for it to the bottom of the right taskbar.