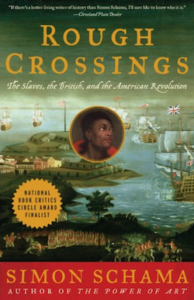 Nate Oman, on Concurring Opinions, writes that he has just finished Simon Schama's Rough Crossings: Britain, Slaves, and the American Revolution (cover left) (Harper Collins, 2007). He is not sparing in his praise for the book, and then comments:
As a contract geek, however, the most fascinating part of the book was the story of The Zong, an episode that surely must stand as the most hideous example of perverse incentives in the history of contract drafting.
The case is Gregson v Gilbert (1783) 3 Doug 232, 99 ER 629, [1783] EngR 85 (22 May 1783) (pdf). It related to a claim against an insurer for the value of cargo thrown overboard from The Zong as a matter of necessity to survive an emergency. The claim succeeded at first instance, but on appeal, Lord Mansfield and Willis and Buller JJ ordered a retrial on the grounds that the evidence as adduced was unsatisfactory. So far, so ordinary. What makes this case extraordinary is that the ship's cargo consisted of slaves, and the emergency consisted of a lack of water for them to drink when the ship's captain's navigation skills failed him and he missed landfall in Jamaica (it is voyage 84106 on the Trans-Atlantic Slave Trade Database). Nate concludes:
All and all, it is perhaps the worst contract that I have ever read about. By covering the cost of dead slaves in some circumstances, the insurance created an incentive for slavers to kill off their "cargo" when doing so would result in an insurance recovery that exceeded their returns from sale of the slaves.
Lord Mansfield had famously held in the earlier Somersett's Case (R v Knowles, ex parte Somersett) (1772) 20 State Tr 1; (1772) Lofft 1) that slavery was unlawful in England (The case is crying out for a movie treatment similar to Amistad; and there seems to be a good discussion on this wikipedia page). The ratio in Somersett's Case was a conclusion as to English law which did not extend to the rest of the British Empire; and so The Zong was unexceptional in contemporary terms, though it has absolutely no modern traction. However, there is an almost contemporary case which has remained a leading contract law authority. It is Cutter v Powell (1795) 101 ER 573, [1795] EngR 4125 (pdf), [1795] EWHC KB J13 (9 June 1795).
A signficant trade route in that period consisted of the sale of goods from western and southern European ports to West Africa, the transport of slaves from Africa to the Americas (this middle passage was The Zong's journey), and the export of American crops (the fruits of slave labour) to European ports, when it would all begin again. Cutter v Powell concerned a voyage on the third leg of this triangular trade (pictured above left; it is voyage 81646 on the Trans-Atlantic Slave Trade Database). A sailor had contracted to serve on a ship between Jamaica and Liverpool, and be very well paid 10 days after arrival. He died en route, and his widow sued for a proportionate part of the agreed sum. However, the court held that, as the defendant's promise to pay depended on a condition precedent to be performed by the sailor, the condition had to be performed before the sailor (and thus his widow) would be entitled to receive anything under it. Cutter v Powell therefore stands for the proposition that, where a contract is "entire", a partial performance will not give rise to a contractual claim for a proportionate recompense.