There are three really interesting things on in Trinity at the moment.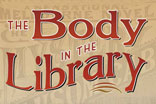 First, the 1930s Cleudo-style poster on the left is for a fascinating exhibition in the Old Library (the building that houses the Long Room and the Book of Kells) about crime writing in the 1920s and the 1930s. Showcasing the first golden age of the detective novel, the exhibition illustrates the origins of the detective story in the mid 19th century, and focuses on the growth in popularity of fictional heroes such as Sherlock Holmes, Father Brown and Hercule Poirot in the earlier part of the 20th century. [Update: more here]. One thing is sure: since academics have become overworked administrators, the body in the library is not one of my academic colleagues!
Second, hot on the heels of winning an Irish Times Living Dublin Award, the Science Gallery is holding a festival and exhibition called LIGHTWAVE. Defy the Darkness. The festival features talks, workshops, performances and a very civilized LightClub conversation space, and the interactive exhibition will continue for another month.

'Sé an tríú rud atá ar siúl sa choláiste ná Égise na Trinóide 09. Chuir An Chumann Ghaelach agus Oifig na Gaeilge an féile bhliantúil Ghaeilge an Choláiste le chéile, agus beidh go leor le deanamh an seachtain seo chugainn [Leagan úr: féach anseo chomh mhaith]. Beidh ceol agus craic, dispóireachtaí agus agallaimh ar siúl; bígí ann!