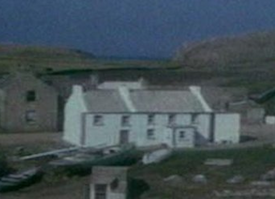 Tory Island is a small island of striking natural beauty off the northwest coast of Co Donegal. So, film-maker Neville Presho must have thought himself a lucky man to have a holiday home there. Until, one day, he returned to the island, and found that the house was gone, replaced by car park for an adjacent hotel (Irish Emigrant | Irish Independent | Irish Times | Kerryman | RTE | Soft Irish Rain). In an ongoing High Court action [an important preliminary stage is here], Mr Presho's claim against the hotel in respect of the demolition of the house failed, but Mr Justice Murphy suggested that there may be a restitution claim for the hotel's use of the site as a car park. Tim Healy's story in yesterday's Irish Independent explains the restitution claim:
Holiday home 'vanished' while owner was absent

A Tory Island hotelier who built a car park on the remains of a 150-year-old holiday home which burnt down may have to pay damages to its former owner. A High Court judge who is presiding over a legal row over a holiday home which allegedly "disappeared" and became a car park for an adjoining hotel yesterday said the case may be dealt with on the basis of unjust enrichment by the hotel. This requires someone who has obtained a benefit at the expense of another, without a legal justification, to provide compensation or restitution for their loss. … Mr Justice Roderick Murphy said yesterday Mr Presho had not succeeded in proving the cause of the damage, but he (judge) was finding that, notwithstanding this, there may be a case against the hotel for unjust enrichment.

The judge said he wanted to hear submissions on this before he would give a final judgment and he adjourned the matter to next May. … He said it was clear the hotel had benefited from the demolition of the house and the clearing of the rubble which was left over. … He said he would, as part of submissions on the issue of unjust enrichment, invite the parties to deal with any award of damages that may follow. .. Mr Presho told the court the case was not about retribution but "about restitution."
Damages for trespass to land are usually measured by the market value of the unauthorized use, that is to say, the going rent (where the trespasser is an overholding tenant, such damages are called mesne profits). And there is a discussion in the cases as to whether such damages should be characterised as compensatory or restitutionary (on restitutionary damages, see in particular the work of Edelman and Giglio, and the Law Reform Commission's Consultation Paper [esp Chapter 6] and Report on Damages [esp Chapter 8]). This measure is controversial, especially as a matter of Irish law, so we can at least hope that any decision by Murphy J in this case will bring some certainty to the area.