According to the Adages of Erasmus, 'vestes virum facit', which is often rendered in English as 'clothes maketh the man'. Two different stories in today's Irish Times brought this adage to mind. In the first, a picture tells a thousand words: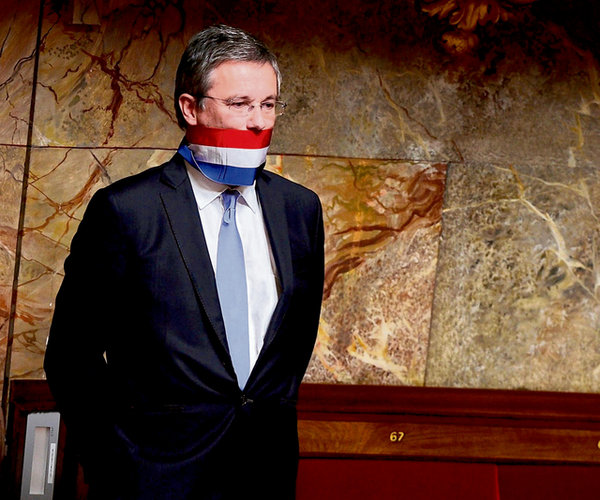 The photo is by Gonzalo Fuentes via Reuters and Yahoo. It shows French deputy Nicolas Dupont-Aignan covering his face with a scarf in the colours of the French flag to protest at the denial of speaking time to independent deputies during a debate about Libya at l'Assemblée Nationale in Paris yesterday. It demonstrates that what deputies wear in parliament can be as important as what they say. Sometimes, the sartorial expression is obvious, as where a slogan on a t-shirt makes the point. Sometimes, it's a little more subtle, but all the more effective, as the photo above of Dupont-Aignan demonstrates. And sometimes, even a deputy's normal everyday wear makes the point: in Ireland, Mick Wallace TD habitually wears a casual pink shirt. Like some other independent TDs, he dresses casually to make a point against unnecessary conformity and stuffiness; and he dresses in pink as "a challenge to the sad macho element in Irish society". Indeed, he chose this colour for his local soccer club, Wexford Youths Football Club, in 2008:
The first club to wear pink was actually Juventus in the 1920's, when it was really dangerous to wear it!" I liked the Palermo pink jersey as well and it's amazing how peoples' perception of the colour changes though after they've seen the jersey. We haven't been able to keep them on the shelves, as most shops are sold out of them – they're very popular and the referee at one of home games recently even bought one.

I was always fond of the colour and it's a challenge to the sad macho element in Irish society. Sure isn't it nice to be different.
The photo of Wallace on the left shows him wearing a Wexford Youths FC jersey whilst canvassing during the recent general election campaign. It is unsurprising, therefore, that, in today's Irish Times, Mary Minihan reports that he is not at all happy that the Dáil's Standing Committee on Procedures and Privileges has recommended male deputies wear a tailored jacket, collared-shirt and trousers, while women are slightly less restricted in being banned simply from wearing jeans:
Independent TD Mick Wallace has predicted some members of the Dáil's technical group will defy forthcoming dress code regulations for Leinster House.

The Wexford-based TD and property developer, whose trademark look features a pink shirt or T-shirt, said he strongly disapproved of the new rules proposed by the Committee on Procedure and Privileges. …

"I don't see people being dictated to in this fashion. I think it will be very wrong for us to just roll over. They want us to look like them. I don't think we should all dress the same. I don't think they should all wear T-shirts or pink," Mr Wallace said. …
It is unfortunate that Wallace's comments about another deputy's pink dress-sense have overshadowed this issue, since it is about much more than sartorial choice. The TDs who reject suits and ties do so as much out of political conviction as for reasons of fashion, style or comfort. Wallace's pink polo shirts, like the tieless untucked shirts sported by fellow indpendent TDs Luke 'Ming' Flanagan and Richard Boyd Barrett, make a serious political point about representing those who do not habitually wear suits and ties. To prevent them from making this point sartorially is as unpardonable a limit on their rights to political expression as it would be if they were to be prevented from making a speech in the Dáil.
Picking up on Erasmus's aphorism, Mark Twain quipped "Clothes make the man. Naked people have little or no influence on society". It seems that a TD who doesn't dress appropriately will not be allowed to have any influence either.