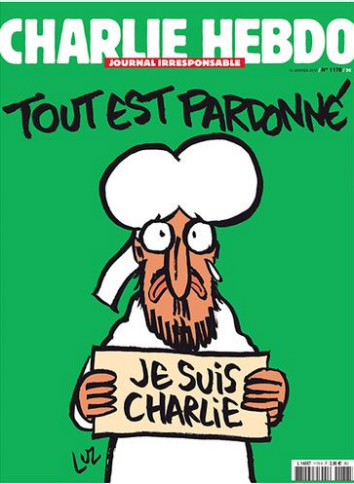 On Sunday 10 January 2015, the Taoiseach (Irish Prime Minister) joined an array of world leaders and an estimated two million people at a rally in Paris against terrorism in the aftermath of the murderous attack on Charlie Hebdo. In Ireland, unfounded claims that the publication of Charlie Hebdo cartoons of the Prophet Mohammed would amount to blasphemy at Irish law have led to several calls to repeal the blasphemy provisions in Article 40.6.1(i) of the Irish Constitution and section 36 of the Defamation Act, 2009.
However, despite his attendance at the Paris rally on Sunday 10 January 2015, not two days later on Tuesday 12 January 2015, the Taoiseach was insistent that a referendum on removing the offence of blasphemy from the Constitution will not be held during the lifetime of this Government. This was reinforced by the Legislative Programme announced on Thursday 14 January 2015, in which a mooted Amendment of the Constitution (Removal of Blasphemy) Bill, 2015 (to provide for a referendum on removing the crime of blasphemy from the Constitution) appears only in Section C of the Programme, concerning Bills in respect of which heads have yet to be approved by Government. Ironically, that same day saw the publication of the first edition of Charlie Hebdo after the murders at its offices – the cover of that edition is shown at the top left of this post.
This is disappointing. On Monday 27 January 2014, the Constitutional Convention published its Sixth Report, recommending the removal of the offence of blasphemy from the Constitution. Taking its time, the Government agreed in principle on Tuesday 30 September 2013 that such a referendum should be held. But this was not the first time a government made such an announcement; in March 2010, less than three months after section 36 of the 2009 Act came into effect, the the then Minister for Justice suggested that there would be a referendum in the Autumn of that year to remove the offence of blasphemy from the Constitution. At that stage, there was a 2-to-1 majority in favour of that removal. However, nothing came of the Minister's promises then, and nothing is likely to come of the current Minister's similar promises now: the government has decided that, in putting changes recommended by the Convention to the people on a phased basis, the blasphemy referendum would not be in the first tranche. There is no good reason why this referendum should be delayed in this way. Moreover, that there is some superficial plausibility to recent misconceived claims that the Charlie Hebdo cartoons are caught by section 36 of the 2009 Act and Article 40.6.1(i) of the Constitution, demonstrates just how unwise these provisions actually are.
I attended the Constitutional Convention's discussions on blasphemy, now seems like an opportune moment to present some belated reflection upon them; and I will do so in my next post.