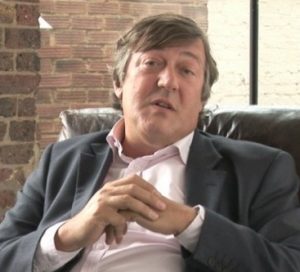 The Irish Independent reports that the Gardaí (the Irish police) have launched a blasphemy probe into comments made by Stephen Fry (pictured left) on the television show The Meaning of Life:
Gardaí have launched an investigation after a TV viewer claimed comments made by Stephen Fry on an RTE show were blasphemous. Independent.ie can reveal that a member of the public reported the allegation to Ennis garda Station following a broadcast of 'The Meaning of Life', hosted by Gay Byrne, in February 2015.
The story has been picked up by the media, in Ireland and abroad – including the BBC, CBS, the [UK] Independent, the Irish Times, RTE, the Mail online, The Journal.ie the Sunday Times (sub req'd), the Observer, the Sunday Telegraph, and the Sydney Morning Herald.
The crime of blasphemy is provided for in section 36 of the Defamation Act, 2009 (also here). Subsection (1) provides that a "person who publishes or utters blasphemous matter" shall be guilty of an offence; anyone guilty of the offence is liable to a fine not exceeding €25,000.
Subsection (2) provides a threefold definition of when a person publishes or utters blasphemous matter.…