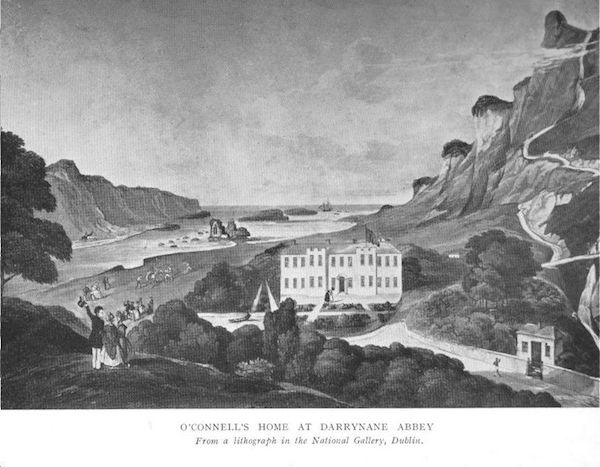 A fascinating post on Daniel O'Connell and free speech was published on the excellent Irish Philosophy website last Monday, in honour of Daniel O'Connell's birth on 6 August 1775, near Cahirciveen, Co. Kerry; here's an extract (emphasis added):
Given his political philosophy, it is not surprising that Daniel O'Connell was a champion of free speech. … [At] the Monster Meetings of the 1840s, … huge crowds gathered to hear O'Connell speak. … Though the meetings were orderly, the government grew worried trouble would break out. Sir Robert Peel outlawed the next Monster Meeting, planned for Clontarf on 8 October 1843. Though O'Connell called off the rally, he was still arrested and charged with conspiracy.

O'Connell spoke in his own defense, pointing out the "conspiracy" was neither secret nor criminal, arguing that calling such a movement as his a conspiracy would prevent improvement of any institutions …

Do not attempt to take away from your fellow subjects the legitimate mode of effecting useful purposes by public meetings, public canvassing — speaking bold truths boldly and firmly.

O'Connell was found guilty … The verdict was appealed to the House of Lords, reversed, and O'Connell left prison after three months, a hero in the fight for freedom of speech.
On the trial, see Report of the Irish State Trials, 1844 (Google Books).
On the appeal, see O'Connell v R (1844) 11 Cl & Fin 155, (1844) 8 ER 1061, [1844] EngR 880 (9 September 1844) (pdf); and see also the House of Lords Frees Daniel O'Connell on Myles Dungan's blog.
On O'Connell generally, see Patrick Geoghegan King Dan: The rise of Daniel O'Connell, 1775-1829 (Gill and Macmillan, Dublin, 2008 | Amazon) and Liberator: The life and death of Daniel O'Connell, 1830-1847 (Gill and Macmillan, Dublin, 2010 | Amazon).