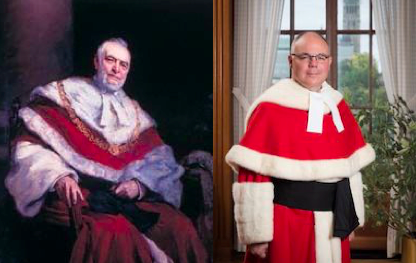 The Honourable Russell Brown, Justice of the Supreme Court of Canada, will deliver a keynote lecture on the topic of
Indeterminacy in the Duty of Care Analysis
at 6:30pm on Thursday 22 November 2018 in Trinity College Dublin, to launch the Palles Society for Private Law. The lecture will be held in the TRiSS Seminar Room (on the 6th floor of the Arts Block in Trinity (map and directions)); and a reception will follow. The event will be chaired by His Excellency Kevin Vickers, Ambassador of Canada to Ireland. All are welcome to attend, but registration is required.
Christopher Palles (pictured above left) was an unrivalled master of the common law. He was Lord Chief Baron of the Exchequer in Ireland from 1874 until 1916. Professor VTH Delany described him as "the greatest of the Irish judges".
Justice Russell Brown (pictured above right) has been a puisne justice of the Supreme Court of Canada since 2015. He was a Professor of Law at the University of Alberta before his appointment to the bench. He is the author of Pure Economic Loss in Canadian Negligence Law (LexisNexis Canada, 2011), as well as articles, chapters and essays on tort law, property law and civil justice.
Kevin Vickers was appointed as the Ambassador of Canada to Ireland in January 2015. He previously served as the Sergeant-at-Arms of the House of Commons.
Justice Brown's lecture is presented by the Palles Society with the support of the Private Law Group (PLG) in the School of Law, Trinity College Dublin, the Events Fund of the Faculty of Arts, Humanities and Social Sciences (FAHSS), Trinity College Dublin, and the Ireland Canada Business Association (the ICBA). The Palles Society is very grateful to the PLG, the FAHSS, and the ICBA, for their generous support.
1.5 CPD points will be available for this event.
If you are interested in receiving more information about the lecture or about the Palles Society for Private Law, you subscribe to the Society's mailing list, follow @PallesSociety on twitter, or send the Society an email.