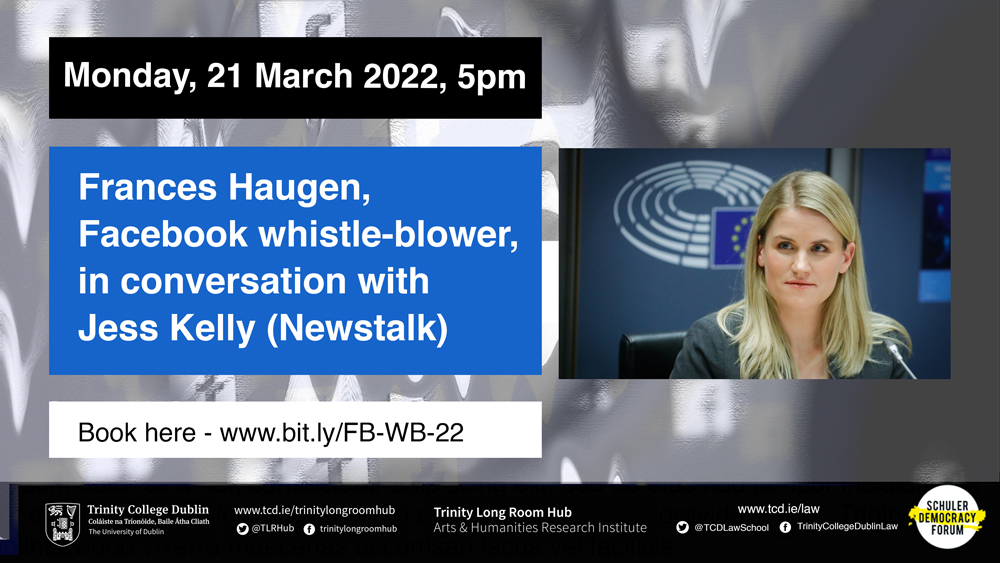 Frances Haugen, Facebook whistle-blower, will be in conversation with Jess Kelly, tech correspondent with Newstalk fm, on Monday, 21 March 2022, 5–6pm, in the Neill Lecture Theatre, Trinity Long Room Hub Arts & Humanities Research Institute, Trinity College Dublin (map here).
About the Conversation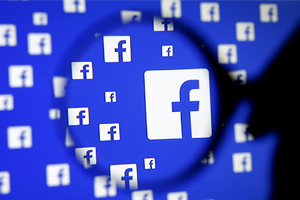 Frances Haugen is a data engineer, and formerly a product manager with Facebook. In 2021, she disclosed tens of thousands of Facebook's internal documents to the US Securities and Exchange Commission, and these documents formed the basis of the Wall Street Journal's Facebook Files investigation. In October 2021, she told the US Congress that Meta's "leadership know how to make Facebook and Instagram safer, but won't make the necessary changes because they have put their astronomical profits before people". She has testified to the US Congress, the European Parliament, the UK Parliament, and the Oireachtas, that government regulation of Meta is increasingly necessary.
In her conversation with Jess Kelly, tech correspondent with Newstalk fm, Frances will discuss what changes Meta can make, and what regulations legislators can introduce, to make platforms safer.
PLEASE BOOK HERE. Numbers are limited, so registration is essential.
About Frances Haugen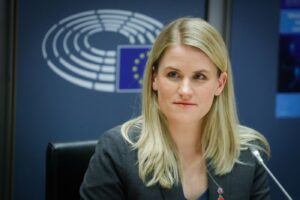 Frances Haugen is a specialist in algorithmic product management, having worked on ranking algorithms at Google, Pinterest, Yelp and Facebook. She was recruited to Facebook to be the lead Product Manager on the Civic Misinformation team, which dealt with issues related to democracy and misinformation, and later also worked on counter-espionage.
During her time at Facebook, Ms Haugen became increasingly alarmed by the choices the company makes prioritizing their own profits over public safety and putting people's lives at risk. As a last resort and at great personal risk, Haugen made the courageous decision to blow the whistle on Facebook. The initial reporting was done by the Wall Street Journal in what became known as "The Facebook Files". Since going public, Haugen has testified in front of the US Congress, UK and EU Parliaments, French Senate and National Assembly and has engaged with lawmakers internationally on how best to address the negative externalities of online platforms.
Haugen has filed a series of complaints with the Securities and Exchange Commission (SEC) relating to Meta, Facebook's parent company, misleading the public and investors on issues such as climate and COVID-19 disinformation. The complaints also argue that platform has misled investors about its role in the January 6 Capitol attack, hate speech removal, the impact of its services on teens and the use of the platform for human trafficking.
Frances will be in Dublin as a follow-up to her virtual appearance last month before the Joint Oireachtas Committee on Tourism, Culture, Arts, Sport and Media. Her opening statement is here (pdf); and the full transcript and video of her appearance are here. She urged "the Irish Government to reflect deeply on its own role – and on the responsibilities which come with housing these social media manipulation machines", adding that "we have seen too many examples of how hyper virality and amplification of lies and hate can lead to division and polarization online, and violence and harm offline".
About Jess Kelly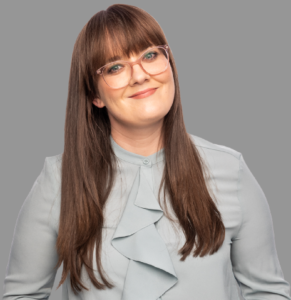 Jess Kelly is Newstalk fm's Technology Correspondent and hosts Tech Talk on Saturday evenings at 5pm. Having worked at Newstalk for over ten years, Jess' role has seen her travel across the globe reporting from some of the biggest conferences in the world including: CES in Las Vegas, IFA in Berlin and Mobile World Congress in Barcelona.
Jess is a regular contributor to publications such as the Sunday Business Post, Independent.ie and Tatler. She is an experienced MC, for events such as Brain for Business at the Science Gallery in Dublin and Mindfield and Electric Picnic, and she has conducted interviews with high-profile guests such as YouTube mega-star Casey Nesitat and former secretary of Homeland Security, Michael Chertoff. In 2019, Jess Kelly was awarded the Irish Tatler Woman of the Year Media Award.
About the Event
The event is presented by the Technologies, Law and Society [TLS] Research Group in the School of Law, Trinity College Dublin and the Schuler Democracy Forum in the Trinity Long Room Hub Arts & Humanities Research Institute, Trinity College Dublin. There is more information here from the Hub and here from the Law School. Prof Deirdre Ahern, Convenor of the TLS Group, will chair the event; and Dr Elspeth Payne, Coordinator of the Schuler Forum, will bring the proceedings to a close with some words of thanks to the participants.
The event is open to the public, but places are limited, so booking is essential. This event will also be streamed live here.