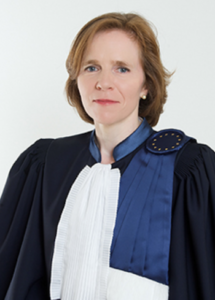 Síofra O'Leary (pictured right) has been elected President of the European Court of Human Rights (press release), and will take up office on 1 November 2022. She has been a judge of the Court since 2 July 2015, a President of a Section since 1 January 2020, and Vice-President of the Court since 2 January 2022. She will be the first female President of the Court. Congratulations, Judge O'Leary!
On this blog, I've already noted female-majority panels in the Irish Supreme Court. Since then – and as well as from Judge O'Leary's elevation – there have been three interesting similar developments.
First, the Court of Appeal has made history as the first court in the Republic to have a majority of female judges: it now has has nine women and eight men. More generally, women comprise 42 per cent of the judiciary.
Second, a portrait by Miseon Lee, of former Supreme Court judge Catherine McGuinness, has been unveiled at the National Gallery of Ireland.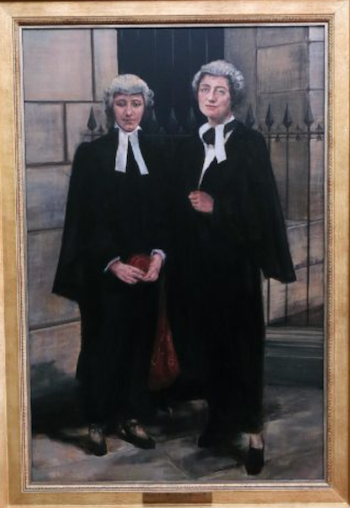 Third, a portrait (pictured left) by Emma Stroude, of Frances Kyle and Averil Deverell, the first female barristers to be called to the Bar in Ireland, has been unveiled at the Honorable Society of Kings Inns (RTÉ news, via YouTube). On 1 November 1921, history was made at the Irish Bar. It was the first Call to the Bar in the newly fledged Irish Free State. And it was when Frances Kyle and Averil Deverell (graduates of the Law School, Trinity College Dublin) were called.
That historic event is now memorialised in the newly-unveiled portrait (pictured left). It was commissioned as part of the Law Library's In Plain Sight series, which seeks to celebrate the achievements and enhance the visibility of women in law.
Since Kyle and Deverell were called to the bar, many women have achieved high office in Ireland, including as President, Chief Justice, President of the High Court, Minister for Justice, Attorney General, Chief State Solicitor, Secretary General of Government departments, Chair of the Bar Council, President of the Law Society, Garda Commissioner, and, now, President of the European Court of Human Rights. In Plain Sight will have much to celebrate.