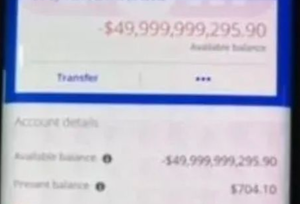 In my previous post, I looked at Foris GFS Australia Pty Ltd v Manivel [2022] VSC 482 (26 August 2022), in which cryptocurrency trading platform Crypto.com accidentally transferred Aus$10.5m [€7.35m; US$7m; St£6.3m] to an Australian customer when processing an Aus$100 [€70; US$67; St£60] refund, by mistakenly entering her account number into the "payment amount" field. Elliott J held that part of the proceeds could be traced into a property gifted by the customer to her sister, who held the property on trust for the payor.
In this post, I want to look at two other computer-enhanced mistakes. The first is almost unbelievable:
A family were made multi billionaires when a banking mishap saw [US$50 billion] €45 billion deposited into one lucky dad's account, momentarily making him the 25th richest man in the world. … [He] was alerted to the huge sum by his staggered wife, …

The dad-of-two, from Louisiana in the US, … admitted to what had happened and arranged for the money to go back to its rightful owner. … When he alerted [his bank] Chase, they immediately began work to get the funds back, but never said where the money came from, or how the error came about.
…