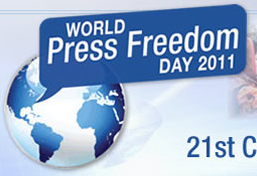 Today is World Press Freedom Day (Unesco | IFEX | WPFD 2011 | WAN-IFRA), and there will be many events worldwide to celebrate, defend and promote press freedom. Free media are at the heart of freedom of expression, acting as watchdogs on governments, exposing corruption and rights abuses, and holding the powerful to account.
Piaras Kelly has news of an event today in Dublin marking World Press Freedom Day (with links by me):
Lal Wickrematunge's brother, Lasantha, has been named as a "Hero of Press Freedom" by the International Press Institute following his murder by unknown assailants in 2009 when he was managing editor of The Sunday Leader, a Sri Lankan newspaper.

The Press Council of Ireland, in association with Ireland Aid, has arranged a free public lecture by Lal Wickrematunge to mark World Press Freedom Day on Tuesday 3 May 2011.

The lecture will take place between 2.30 pm – 4.00 pm in the Neil Hoey Lecture Theatre, Trinity Long Room Hub, Fellows Square, Trinity College Dublin. If you would like to attend please RSVP to info@presscouncil.ie or (01) 6489130.
In unfortunate timing, some of my students have an exam at exactly the same time, so I can't attend. But I'd love to have been able to do so, and I hope that next year's exam timetable doesn't get in the way!