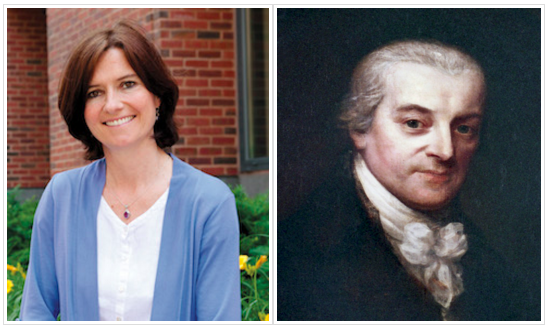 Professor Gráinne de Búrca (pictured above left) will deliver the first annual lecture in memory of Arthur Browne (pictured above right) next Friday 13 May 2016, at midday, in the Davis Lecture Theatre, Room 2043 Arts Building (map here) on the topic
Is EU Anti-Discrimination Law in Decline?
Professor Gráinne de Búrca (pictured above left) is the Florence Ellinwood Allen Professor of Law in New York University School of Law, Faculty Director of the Hauser Global Law School, and Director of the Jean Monnet Center for International and Regional Economic Law & Justice. Prior to joining NYU in 2011, she held tenured posts as professor at Harvard Law School, Fordham Law School, and at the European University Institute in Florence. Before that, she was Fellow of Somerville College and lecturer in law at Oxford University from 1990-1998. She was deputy director of the Center for European and Comparative law at Oxford University, and co-director of the Academy of European Law at the EUI in Florence.
Arthur Browne (1756-1805) (pictured above right) was a leading Irish lawyer, academic, and politician, at the end of the eighteenth century. He was devoted to civil liberties, to the reform of Parliament, and to the relief of Roman Catholics from legal oppressions. Browne attended Trinity College Dublin, and graduated with a BA in 1776 (MA 1779), an LLB in 1780, and an LLD in 1784. He became a Scholar of Trinity in 1774, he was elected a Fellow in 1777, he was appointed Regius Professor of Civil and Canon Law in 1785, and he became a Senior Fellow in 1795. He represented Dublin University in the Irish House of Commons from 1783 until 1800. In a pamphlet urging the government not to neglect the College, published in 1782, he quoted Anaxagoras: "those who wish to enjoy the light of a lamp must feed it with oil". He was called to the Bar in 1779, became a King's Counsel in 1795, and a Bencher of the King's Inns in 1803. He was the last holder of the office of Prime Serjeant, from 1802. One of his most famous cases was Daly v Magee (1789-90):
John Magee was the proprietor of the Dublin Evening Post, which was a polemical and often libellous journal. Richard Daly, the manager of the Theatre Royal, was affronted by libels appearing in the Press, and had secured Magee's committal by means of a fiat. … When bail was fixed in some excessive sum the person accused on a bare affidavit of a criminal libel would have to remain in custody – sometimes for a lengthy period – in default of bail awaiting a trial which might be long delayed. In Daly v Magee damages of £200 were ultimately awarded against Magee. Browne, who had appeared as counsel for Magee, raised the case in Parliament, and although no decision was ever arrived at there, the outcry was such that fiats were not used again as a means of restraining the press.

(Paul O'Higgins "Arthur Browne (1756-1805): An Irish Civilian" (1969) 20 Northern Ireland Legal Quarterly 255, 259-260)
All are welcome to attend Prof de Búrca's Arthur Browne lecture; attendance is free; but booking by email is essential.