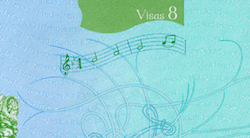 No, this post isn't about the notes on the forms to be filled in to apply for a passport, or even about explanatory notes that might appear on the passport itself.
Instead, it's a musical post, (about the National Anthem – the most recent in a series, earlier posts are here, here, here, here and here), based on a letter in today's Irish Times:

Sir,

In a queue at Dublin Airport last week, my daughter Alex was curious about music notation on successive pages of her passport and asked me to read the music.

To our surprise and delight, it was the music of our National Anthem. Whoever imagined this subtle celebration of Irish musicality should be congratulated.

Yours, etc,

Keith Donald,
Chair of the Irish Music Rights Organisation,
Lower Baggot Street,
Dublin 2.
The image, above left, via TheJournal.ie, shows some of those notes. I saw this letter in the paper version of the Irish Times, and whilst searching online for the letter on the Irish Times site, and for an appropriate image, I also found the following post on the website of Absolute Graphics – a marketing, design and print company based in Bray, Co. Wicklow:

… The challenge was to design a passport that incorporated cutting edge security features while maintaining and reflecting 'Irishness' throughout. The Department of Foreign Affairs and Trade appointed Absolute Graphics (as part of a consortium led by [Security Print Group] DLRS Ltd) to create the new passport from design through to finished product. …

On the design side, we combined the traditional with the contemporary. From the entrance stone at Newgrange to the Aviva Stadium in Lansdowne Road, the design celebrates everything Irish – history, poetry and sport, tradition and modernity. … over 60 different design and security features are employed in the passport.
It's a prize-winning document, and now another of its many careful design features has charmingly emerged like a Venus from the waves. I join in Keith's congratulations to Absolute Graphics.