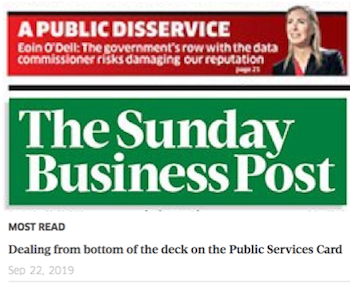 On Tuesday of this week, belatedly and with very bad grace, the Department of Employment Affairs and Social Protection published the Report of the Data Protection Commission (DPC) on the Public Services Card (#PSC), which concluded that the government's implementation of the PSC infringed data protection legislation. The government has refused to accept or comply with the Commission's findings, and has instead, for reasons beyond understanding, gone to war with the DPC on this issue.
In my view, the Government's unjustified defiance of the DPC imperils Ireland's tech reputation; and I argue in an OpEd in today's Sunday Business Post (sub req'd) (update: you can download it from the links in update 3 below) that this unseemly standoff must be resolved as quickly as possible, before irreversible damage is done to our international standing as a good location in which international tech companies can establish their European headquarters:
The government is clinging to its legal advice on the PSC data fiasco. It needs to admit it was wrong and change course immediately

… The DPC's report is very clear; its fundamental conclusions will undoubtedly survive legal challenge; and the government will eventually be as surely taken to task in the courts in Dublin and Luxembourg as it has been his week in the court of public opinion.
…