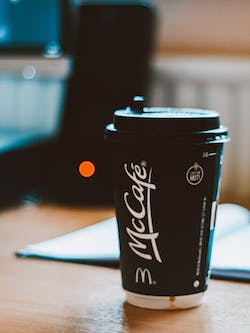 Without my first cup of coffee, I don't function in the mornings. So, it's not a surprise that some recent headlines about coffee caught my eye: Woman who was scalded when coffee spilled in her lap at drive-throughr awarded €30k damages (The Independent); Woman awarded €30,000 after takeaway coffee spill causes burns (The Irish Times); Woman (29) awarded €30k after she was scalded by coffee spill at McDonald's drive-thru (The Journal.ie); Unable to have 'intimate relations' for 8 months: Woman, 29, receives €30k award after coffee spill (The Examiner); €30,000 for woman who could not have sex after McDonald's scald horror (The Herald). All of the reports begin in the same way:
A 29-year-old woman, whose thighs and genitals were scalded when coffee was spilled in her lap at a McDonald's drive-through takeaway in Clondalkin, Co Dublin, has been awarded €30,000 damages in the Circuit Civil Court.

Ciara Corboy, of Oatfield Avenue, Clondalkin, told Judge Francis Comerford that in November 2017 while being handed a large Americano at the drive-through restaurant at The Mill Shopping Centre, Clondalkin, a lid that had not been properly secured to the cup had come off causing her to be scalded in her thighs, groin and private parts.
…