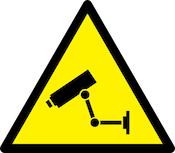 In Atherton v DPP [2006] 1 IR 245, [2005] IEHC 429 (21 December 2005) Peart J held that a video recording of a hedge visible from the public road – and thus of the accused causing criminal damage to the hedge – did not constitute an unconstitutional invasion of the accused's right to privacy. On the other hand, in Sinnott v Carlow Nationalist (High Court, unreported, 30 July 2008, Budd J) (already discussed on this site: here, here, here and here), Budd J held that the publication of a photograph of the plaintiff playing Gaelic football in which his private parts were clearly visible constituted a breach of his constitutional right to privacy. It is therefore reasonably clear that – as Atherton illustrates – most matters which occur in a public place will not, for that reason, attract the protection of the constitutional right of privacy; but that – as Sinnott illustrates – some matters will.
Although Sinnott may very well be exceptional, it demonstrates that, as a matter of Irish law, it is possible to assert a right of privacy in a public place. Although it may also be exceptional, the converse may also be true, that a right of privacy may be lost even in a private place. For example, there may be consent to some degree of scrutiny (such as being seen nude by someone else in a private or intimate setting) which would mean that the right of privacy is lost in that private place at least to some extent. But, in principle, there would limits to the consent so given, so that if the scrutiny which occurred (such as secretly making a recording of the nudity) went further than the consent, it would therefore became an infringement of privacy.
Via Dan Solove on Concurring Opinions and Bruce Boyden on the Marquette University Law School Faculty Blog, I learn that in State v Jahnke, 2007AP2130-CR (Dec. 30, 2008) (html | pdf) the Wisconsin Court of Appeals has decided an important video privacy case that discusses just this issue of privacy expectations in being seen as against being recorded. (See also Associated Press | Capital Times | Fox | Jonathan Turley | RightJuris.com). Dan argues:
The majority opinion wisely avoids a trap that many courts get into — understanding "privacy" narrowly as absolute secrecy or seclusion. Privacy involves a cluster of expectations involving the nature and extent to which their information is captured, used, and disseminated. It seems quite reasonable to assume that two lovers who see each other nude nevertheless expect privacy. They might be exposing their nude bodies to each other, but what they expect is that nobody else will see them. … But it seems to me that under this circumstance–the nonconsensual recording of a person in the nude when she is exposing her body only to her boyfriend (rather than walking down a public street in the nude)–expectations are clear that the intended exposure is for the boyfriend's eyes only.
This is a strong affirmation of the principle (discussed by Simple Justice in this context) that consent to a limited loss of privacy is not consent to a wholesale invasion of privacy, so that while in principle a right of privacy may be lost even in a private place, it will be an exceptional set of facts in which this will occur. And whilst this decision was in the context of the interpretation of a statute making such videotaping unlawful, US courts have also found that they amount to an invasion of privacy at common law. Via Jonathan Turley I learn that, in Tigges v Tigges, 07–1103 (December 19, 2008) (pdf) a court in Iowa held against a husband who secretly videotaped his wife in the bedroom (see also Overlawyered | cyb3rcrim3).
As to Irish law concerning invasion of privacy, it is clear that secretly making an audio recording of telephone conversations can constitute an infringement of privacy (Kennedy v Ireland [1987] IR 587, [1988] ILRM 472 (12 January 1987) (doc | pdf); Herrity v Associated Newspapers [2008] IEHC 249 (18 July 2008)), and that secretly making video recordings can also constitute an infringement of privacy (Atherton (above), Cogley v RTÉ [2005] 2 ILRM 529, [2005] IEHC 180 (8 June 2005)) (though in Atherton, as we have seen, it did not in fact constitute an invasion of privacy; and in both Herrity and Cogley there was the further question of whether the publications of the infringing recordings could nevertheless be justified – they were in Cogley but not in Herrity). It would not be difficult, therefore, for an Irish court to come to similar conclusions on facts like Jahnke and Tigges. But don't hold your breath. And in the meantime, don't make home movies!
br>
br>
Bonus: while you're checking out the Marquette link, have a look at their Question the Month, which – for January – asks What is your favorite movie or novel about legal practice?