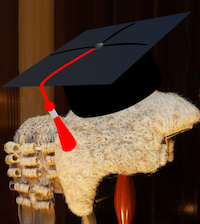 Approximately one month after both Adrian Hardiman of the Irish Supreme Court and Antonin Scalia of the US Supreme Court suddenly passed away, Thomas Cromwell of the Supreme Court of Canada has given notice to the Canadian Minister of Justice that he will retire from the bench effective 1 September 2016. On theCourt.ca, John Mastrangelo writes that "the newly-elected Canadian government will soon face a challenge of its own in replacing a Canadian Supreme Court titan". One aspect of Mastrangelo's assessment caught my eye:
Born in Kingston Ontario, the young Thomas Cromwell earned degrees in Music and in Law from Queens University, an ARCT Diploma from the Royal Conservatory of Music, and a Bachelor of Civil Law from Oxford University. After spending time teaching at both the University of Toronto and Dalhousie University, Justice Cromwell served as Executive Legal Officer to then-Chief Justice Antonio Lamer between 1992 and 1995, before going on to serve in the judiciary himself. In 1997, he was appointed by former Prime Minister Jean Chretien directly to the Nova Scotia Court of Appeal despite not having had any prior experience as a trial judge (although he had previously served as a labour arbitrator and adjudicator in Nova Scotia).

After more than ten years of service as a provincial appeal judge, Justice Cromwell was elevated to the SCC in 2008 … where he went on to play a significant and active role on the bench, and championing access to justice in civil courts … Although his academic interest was in civil procedure, he will be remembered for his versatility, having authoring leading judgments across various areas of law …
Indeed, as another assessment commented, Justice Cromwell "was considered one of [the SCC's] leading lights, and a possible replacement for Chief Justice Beverley McLachlin … in 2018". Note then: a judge who was drawn from the academy rather than practice was highly regarded that he was mentioned as a possible Chief Justice in one of the common law world's leading courts. This raises, once again, the question which I have asked on this blog in the past: why should Irish legal academics not be judges? In my view, there is no good reason why judges, especially appellate judges, should not be drawn from the ranks of academics. It is well past time that Irish law allowed for this. Proposed legislative amendments to allow for this have already been drafted. When we eventually get a government, this is a matter which should be taken up by the Department of Justice's still-ongoing consultations on the process of judicial appointments. This development will not have concluded by the time the Government comes to nominate the late Adrian Hardiman's successor, but it should do so by the time the next vacancy arises on the Court of Appeal.