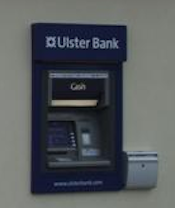 In the case of overpayments by an ATM, erroneous overpayments can be recovered by the bank (whether on foot of the bank's terms and conditions, or pursuant to a restitution claim to recover a mistaken payment), and so must be repaid by the customer. Worse, seeking and retaining the overpayments can amount to theft. As I have said on this site, a bank error in your favour is not a gift from God; an overactive atm is not santa, and the scrooge bank will have to be repaid; bank errors are not a licence to gamble; and keeping the proceeds of a bank error in your favour can amount to theft.
All of this is brought to mind by a story in this morning's Irish Independent (also Sunday World and 98fm):
… Babatunde Fagbule (46) visited several ATMs around Dublin and Meath on June 22, 2012 and made thousands of euro in withdrawals. By the end of the day the account, which belonged to his wife, was overdrawn by €8,315. … The court heard Fagbule had no right to withdraw more money than was in the account as it did not have an overdraft facility. However because of a massive IT failure which affected all ATMs in the Royal Bank of Scotland group, including Ulster Bank, computers temporarily failed to reduce … [customers'] balances when they withdrew money. …

Counsel said Fagbule … had since repaid the money in full. … Judge Melanie Greally … imposed an 18 month sentence suspended for two years.
Fagbule was lucky; a teenager in Georgia, USA, (h/t Yotam Kaplan on @NewPrivateLaw) who was convicted of theft after spending $30K mistakenly deposited into his bank account will serve the next 10 years on probation and was ordered by a judge to pay the money back.
Update (22 May 2016): From the Irish Independent (20 May 2016):
A soldier fraudulently withdrew more than €13,000 in cash when Ulster Bank experienced a computer failure. Thomas Brannigan (30) made 45 withdrawals from an ATM in Tallaght on one day in June 2012. Due to a glitch in Ulster Bank's computer system, he was able to take a total of €13,250 from his account, even though he had only €500 in it. A court heard that Brannigan is repaying the money, and so far has handed back €3,500. …

A court previously heard Ulster Bank has issued criminal proceedings against a number of people who failed to pay back money withdrawn fraudulently while the bank was experiencing a software failure.