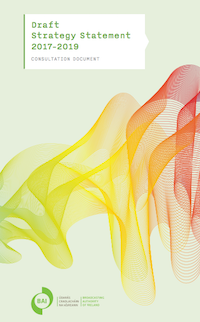 Hot on the heels of the announcement of a review of the Defamation Act 2009 (also here) by the Department of Justice comes news of a consultation by the Broadcasting Authority of Ireland on its Strategy Statement for 2017–2019 (download pdf).
Sections 66(2)(i) and 137(2)(i) of the Broadcasting Act, 2009 (also here) require the BAI to have regard to "the desirability of allowing any person, or group of persons, to have control of, or substantial interests in, an undue amount of the communications media" in a specified area.
Against this background, and in the context of the recent debate about the constitutional issues facing the regulation of media ownership in Ireland, (especially where such regulation is directed to the promotion of pluralism and diversity), the BAI's proposed Mission Statement provides that it is the aim of the BAI [emphasis added] –
I To regulate, foster and support broadcasting in the public interest;
II To promote a plurality of voices, viewpoints, outlets and sources in Irish media;
III To foster diverse and culturally relevant quality content for Irish audiences.
Moreover, one of the five proposed strategic themes is the promotion of diversity and plurality, with the following strategic objectives:
1 [To] Facilitate a mix of voices, opinions and sources of news and current affairs in audio-visual media which enhances democratic debate and active citizenship in Ireland.
…